3 Card Poker traces its origin to Las Vegas and was officially tested in 1999. It has received a warm reception, and you can play it in most casinos in Las Vegas. One of the main reasons behind the massive popularity of this casino is its pay-table, which had very impressive pay-outs. During those days, the house of advantage had a maximum of 2.3%, and this rarely happened, especially in games where one had a possibility of walking away with handsome payouts. The only casino game whose payouts is similar to the 3 Card Poker is Roulette.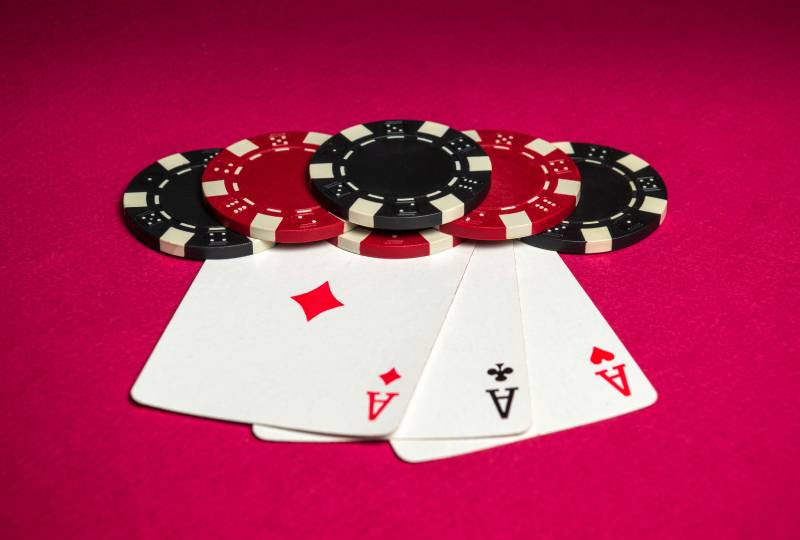 There is no doubt that this game is quite laid back. You only need to handle your cards well and make the right decisions. It is also easy to comprehend, and this is why both amateurs and experienced gamblers prefer it. There is also a high chance of enjoying lucky streaks on the live poker game.
Payouts
The fast-growing popularity of the game made other casinos to look for new ways of attracting players. This rush gave birth to several new variants of 3 Card Poker. For instance, Harrah's casinos came up with a table that had a hand known as mini-royal.
This game had an impressive payout of 50-1. As if that was not enough, another casino (Boyd) came up with a one buck side bet. This game pays a progressive jackpot for the A-K-Q spades. You also win $500 for any other mini royal, and a bonus for tablemates that don't win. The non-spades earns you $25, and it is possible to walk away with $500 for a progressive jackpot. Winning a jackpot can make you $100.
The Wynn also came up with a new extra bet known as Prime. It is rewarded to a player who has three cards of the same color. Another Casino in Las Vegas that you should know about is Caesar's Palace, which has a bonus that consists of 6 cards and uses a player's 3 cards and a dealer's 3 cards to make a five-card poker.
Read More: Best Shows in Las Vegas | Non Smoking Casinos in Las Vegas
Sadly, these changes ended in the year 2010. This means that all the original tables no longer exist in Las Vegas as they were wiped out by the changes.
Here is a Summary of the Card Poker in Las Vegas:
Straight Flush has a payout of 40-1
Three-of-a-kind has a payout of 30-1
Straight has a payout of 6-1
Flush has a payout of 3-1
Any Pair comes with a payout of 1-1
In this payout structure, the house retains an advantage of 7.2 percent. If you add a royal which has a payout of 50 to 1, the house of advantage will be lowered to 7.1 percent. This reduction is quite insignificant, and this is mainly because it is quite hard to encounter the mini-royals, which only occur once after every 5000 hands. The odds for the game are not that lucrative as they used to be. The online experience of the 3 Card Poker is similar to that of the everyday experience. It also has a small advantage (2.32%).
How to Play
The rules of playing this casino game are simple and direct. As a player, you have two options for placing a bet. You can bet the Ante or the Pair Plus. You are also free to bet both the Ante and the Pair Plus. If you decide to bet the Pair Plus alone, you will not be required to take any more actions. If you choose to bet in the Ante, you must first decide whether you want to continue playing or fold it.
If you want to play the hand, you will be required to raise your stake until it is equal to the size of the Ante bet. This is usually referred to as the "play bet." Once your stakes match with the Ante bet, you will be required to tuck your cards under your Ante. The trick here is to raise a hand that is at least Q-6-4, and your fold should be worse than Q-6-4. Once you decide on whether you will raise or fold, the dealer's hand will be exposed.
After exposing the hands, a dealer is considered qualified if they have a queen high and unqualified if they have a jack high or low. A player is declared a winner if the dealer fails to qualify and the play bet is subsequently pushed.
If the dealer qualifies, your hand will be compared to the dealer's hand. If your hand beats the dealer's hand, you will win the even money on the play bet and the Ante bet. If the dealer manages to beat your hand, the house will win the Ante and the play bet. If the player and the dealer have the same hand, both the Ante and the player bets will be pushed.
It is important to know that if a player is handed a straight or even higher, they will be eligible for the Ante Bonus. You will receive this bonus regardless of what is in the dealer's hand.
Where to Play Tri Card Poker in Las Vegas
3 card Poker does not have any favorite tables in Las Vegas. The decision on where to play is determined by the table limits. Almost all the Casinos that located in Downtown Las Vegas offer minimum $5 and a maximum bet of between $50 and $100. Golden Nugget offers a minimum of $10 and a maximum bet of $300. One of the benefits that come with playing in the Downtown casinos is their excellent drinking services.
A good percentage of the Las Vegas Strip 3 Card Poker tables offer a minimum bet of $15. However, Riviera, Stratosphere, and Circus Circus have minimum bets of $10 and $5. Luxurious casinos such as the Wynn can go up to $25. The highest amount of a bet that you can take also varies depending on the casino, and mainly ranges between $100 and $1000.
Video Guide: Best Las Vegas Casinos
Conclusion
Due to the laid-back nature of 3 Card Poker in Las Vegas, players are prohibited from engaging in a conversation. This is something that has been disputed by many people. Despite this rule, 3 Card Poker is a fun, entertaining and rewarding game.
Rank
Casino
Bonus
Payout %
Visit
%
Tuah is an experienced writer and casino enthusiast with 12 years of industry knowledge. With a degree in Journalism, he delivers objective and comprehensive casino reviews, covering game variety, user experience, security, and customer support. From slots to blackjack, roulette to poker, Tuah's expertise guides both beginners and experienced players in making informed decisions. Expect engaging articles providing valuable insights for an enhanced online gambling experience.