Age of the Gods Bonus Roulette Playtech
When it comes to Playtech Games, fun-themed slot machines are a specialty that has kept fans glued for so long. That's why it made sense to see fans and gamers freak out with the fusing of two of their masterpieces. Interestingly, Playtech casino games are not just bound together by their excellent themes; they have more to offer now!
One of the best parts of Playtech Age of the Gods Bonus Live Roulette is its cumulative prize. The standard Age of the Gods Roulette did not miss out on this feature, though. Still, in this bonus version, there are some extra perks you don't want to miss out on.
In this post, we'll explore the Age of the Gods Bonus Roulette live game's features and gameplay in its entirety. Ensure you read to the end for a comprehensive breakdown to start playing the bonus roulette live game.
About the Gods Bonus Roulette Age
Playtech's Age of the Gods Bonus is a thrilling live online roulette. Players who are already acquainted with Playtech's gods games would find this game familiar. As a matter of fact, it shares almost all the distinctive features of the company's gods roulette.
That said, the Age of the Gods bonus roulette should not be mistaken for the Age of the Gods roulette. The latter is a completely different game. Age of the Gods Bonus Roulette is identical to regular roulette and its only difference lies in its special bonus feature.
Playtech invented the Age of the Gods Bonus Roulette with a Golden Age theme that replicates when the gods ruled. It also explores a Greek mythology theme. Hercules, Aphrodite, Zeus, and Poseidon are just some of the many Greek deities featured.
These gods' likenesses appear on the roulette wheel, numerals, and pay tables here. This gambling innovation is a European-style roulette game and not an American roulette wheel. As a result, there are 36 digits and a solitary zero on the wheel. The progressive prize round is indicated by the purple extra pocket bearing the age of the gods emblem. Bettors will recognize an arrangement similar to that of standard roulette.
Other Features of Age of Gods Bonus Roulette
The Age of the Gods roulette game is a particularly interesting variation, even without the progressive bonuses. Some of its characteristics are as follows:
Race track
You can place Tier, Orphelins, Voisins du Zero, and Neighbors wagers on the racetrack. To reveal the track, select the racetrack symbol located above the purple Age of the Gods wagering area and the zero betting area.
Spin Direction
If you play Roulette, you get to choose which way the ball lands (clockwise and anti-clockwise- just click the Direction button).
Automatic Play
With auto-play, you can automatically start a basic or complex game. You can adjust the number of spins and how the ball lands. You can even set stop conditions when there is a big win, an overall balance, or you've reached your minimum deposit.
For Martingale players, there is an added bonus. slot A re-bet and spin button and a double bet and spin button are included in this variation.
Favorite Bets
You can save customized bets you'll like to use again in the favorite bets section of the casino. This is most effective when you want to remember the bets that gave you the gods jackpot. To favorite your bet, simply click on the Diamond in the screen area.
More Bets
The platform allows you to place "final bets" (number and any number that ends with your chosen digit). There are options for complete and half-complete bets, all covering a certain number.
Data and History
What you see here is a record of past spins and the distribution pattern of the outcomes. This data has been made into a bar graph for your reading convenience.
How to Play Age of the Gods Bonus Roulette
The gameplay for Age of the Gods Bonus Roulette is nothing confusing as it's not American roulette. Anyone familiar with Age of the Gods Roulette can easily pick it up. Use the process below to begin playing:
Understanding the Game Layout
If you're familiar with live casino games, you won't need much time to get comfortable with the rng slot machine. The selection is on the left and your chip totals and prices are on the right. The wagering boundaries, bonus section, and a record of the last 100 games are also available.
There are also price ranges as we have in brick and mortar casinos. Prices range from about $0.50 to $100, depending on the specific online game. You would probably have three spins with one being a main game spin.
Begin Work on the Betting Grid
At the focal point of the table, right in the center of your screen, lies the platform for you to place your wagers in the captivating game of live roulette. The placement of bets can be approached through various methods, catering to different preferences. You might opt for the traditional setup, adopting the perspective of being present at the actual racecourse. This approach allows for both full and split bets to be conveniently placed. It's crucial to note that bets need to be positioned within a brief window of just over 20 seconds, as this unique iteration of roulette, known as "Gods Live Roulette," unfolds in real-time.
For a comprehensive understanding of the game and its features, you might want to explore the Roulette Portomaso Gaming Review. This review delves into the intricacies of the Portomaso Gaming version of roulette, shedding light on its gameplay, design, and overall experience.
Match Your First Three Tokens
The winning bet (Jackpot) and the bonus game, however, are what really set Age of the Gods Bonus online roulette apart from the competition. With a slight possibility per spin, the prize can be won at any time. Upon activation, a new window will pop up. It's a minigame where you have to collect 20 pennies from a 5×4 matrix. You'll be tasked with tossing pennies until you find three that are exactly alike.
Get Your Gods Progressive Jackpot
The gods bonus roulette age makes use of a progressive jackpot feature. When players match the first three tokens, they have a jackpot win. The online casino terrific gods mystery jackpot game even makes it more enticing.
The gods jackpots range from Power Jackpot, Extra Power, Super Power, and Ultimate Power. These four progressive jackpots are all known for their unique jackpot symbols. These Power Jackpot, Extra Power, Super Power, and Ultimate Power also have monetary values attached.
Depending on the number, the Ultimate Power jackpots in a jackpot game could be worth as much as $100,000.
When you reach the extra spot and keep it, the bonus pocket will activate. The bonus round's increase is decided by what appears to be a single-line gamble. The next sign you get will determine the increase, which can range from 5x to 100x. If you participate with a large wager, you stand a good chance of earning big.
Payouts in Age of the Gods Bonus Roulette
You won't have any trouble with this variation of Roulette if you're familiar with the original game. All of the standard bets you'd find at an interior or outdoor roulette table are accessible in Age of the Gods Roulette as well.
Age of the Gods Bonus roulette is a must-play if standard roulette is your game of choice. A normal payment would be 35 to 1. There is a 17-to-1 payout on a winning split gamble. Also, the payout on a winning corner bet can reach up to 8 times the initial wager.
Column and ten wagers give 2 to 1 and are available to you as well. Lows and Highs, Even and Random, Black and Red, and other similar even-money wagers are also available.
Why You Should Play Age of the Gods Bonus Roulette
Playtech's Age of the Gods Bonus roulette is one of the live roulette games with a fantastical gods mystery motif. Even though the added gods bonus round increases the game's inherent danger, the possible rewards are much greater than in regular roulette.
The chance at a life-changing prize from the progressive jackpots adds even more thrill to the game. Also, compared to other games of other age, the game's UI and bonus position is among the best.
There isn't much space for nuance in live casino games. Hence, you'll probably only end up enjoying the game for its technical elements and bonus position. In these respects, the Age of the Gods Bonus roulette is superior to a common roulette game.
The prize from progressive jackpots is where the game really shines. You have a high enough chance of winning to make it worthwhile to participate.
Conclusion
There is usually not a lot of opportunity for subtlety in such gods slots games. For this reason, it's tough to give them a rating without focusing solely on their technological merits. However, there is a certainty that analysis of Gods Bonus Roulette Age shows that the game is particularly good.
The gods roulette bonus round, however, is the game's main draw. That sliver of an advantage of guaranteed win from the bonus feature is enough to make you pick this game over others.
Still, the gods bonus roulette age bonus round seems a little sketchy. To put it bluntly, the progressive jackpot, zero pocket. winning spin, etc are indeed, entertaining, but can have bad effects. That said, you can enjoy your live roulette age in the ancient greek temple.
Rank
Casino
Bonus
Payout %
Visit
1
100%% up to €500
%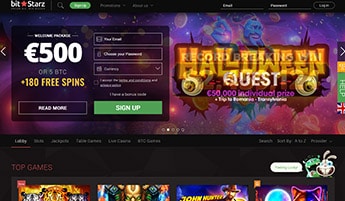 BitStarz - 100% up to €500 or 5 BTC
In conclusion, BitStarz is a pleasant surprise. It certainly isn't just another mundane online and live dealer casino that's shouting "Bitcoin games here!" from the rooftops. The brand is genuine and flaunts a solid game collection highlighted by a massive quantity of slots and a polished live dealer lobby. Its pros continue with free withdrawals, creative promos and bonuses, cash prizes and flawless mobile functionality. Proven fairness and notable accreditation make BitStarz a smart choice indeed.