Live Andar Bahar Ezugi
You can't talk about the top games in India without mentioning Ezugi Andar Bahar. This game is unmatchable, winning the hearts of many with its brilliant features.
Surprisingly, given the game's increasing fame outside of India, there aren't very many live variants of Andar Bahar. Still, Ezugi's Live Andar Bahar is simply ahead of the competition because of the rarity of the deal.
This Andar Bahar review will go into greater detail about the fantastic components of this irresistible game. Ensure you read on to the end so you won't miss any information that'll prepare you for your next play.
The Ultimate Andar Bahar | About Ezugi Games India Gaming Ultimate Version Masterpiece
Since its launch in 2012, live online gaming software provider Ezugi has become a market champion. It runs 9 cutting-edge live casino facilities in nations across Latin America, Europe, India, and Asia. Each episode of Ezugi's Andar Bahar is shot in one of these posh locations.
Specifically, the top-tier facility for streaming each game round, Ezugi, is located in Romania, where the main game is broadcasted live. In other words, Ezugi's Andar Bahar is available to participants at any time of day or night, whenever they wish.
Andar Bahar's popularity is global, but the Indian players are the most devoted. Ezugi has made the Ultimate Andar Bahar accessible across all platforms in order to satisfy these players. The game is played on mobile devices and can be accessed from a desktop computer via the Flash version.
Ezugi Andar Bahar can accommodate an unlimited number of players, and it's also very convenient. All players play fast-paced and easily join the excitement thanks to the game's cutting-edge user interface. It's wonderful news for such a famous game that there are no limits on it.
Not to mention, the game's popularity stems in no small part from the skilled and engaging playing patterns of the live players. They are masters of their craft and always manage to put on a flawless show. The game incorporates a gratuity system for the live dealer because of this, and the vast majority of players regularly take advantage of it.
Finally, Andar Bahar is a genuine product because it has been approved by respected authorities. In reality, the Curacao eGaming Licensing Authority has approved and recognized all of Ezugi's game offers. They have additionally been validated by SCG-Bulgaria, ItechLabs, BMM, and RSG-Eclipse. Due to this, Ultimate Andar Bahar, along with any other Ezugi game, is entirely above board.
Ultimate Andar Bahar Game Features
Some players of Live Andar Bahar Ezugi might get bored if they were limited to just two bet options. This is why Andar Bahar has included a massive eight side bets for good measure.
The Side Bets Feature
The basic premise of a side bet is straightforward. It's your job to guess how many cards will be dealt by the live dealer before the main game round concludes.
Naturally, the reward improves as the number of cards dealt increases. Different levels of side bets are available to you. If you wager a side bet on the 11-15 choice, for instance, you'll win big if the final tally is 11, 12, 13, 14, or 15.
The main bets take place within the base game round. However, you can wager your side bets either in addition to or instead of the two main bets.
Since the outcomes are determined independently, it is possible to win the side bets while losing the main bet. You can only increase your payout from Andar Bahar beyond the even money payout by taking the optional side bet.
Language
The live Andar Bahar table's live dealer always communicates in English. Still, the options section in the app's top right area allows for UI customization. Bets, explanations, regulations, and so on can all be rewritten when you modify the language settings. There are so many other language options for you.
Other Features
The game features game statistics that make it easy for new customers to keep track of their playing account and progress. With the data from your previous casino game, you can be more strategic to increase your payouts. Finally, you can opt for their live chat option as the game is being played. It allows you to communicate with your dealer and other players.
Return to Player Percentage
We determined that Andar Bahar is a lucrative casino game option. It has one of the greatest payout frequencies in the business when it comes to side bets. Players in search of high RTPs (Returns to Player) have taken notice.
Andar Bahar's main game has an RTP of 94.85%. The side bets, however, are more profitable, with a potential RTP of 95.57%.
How to Play Andar Bahar Ezugi Live Casino Games
Andar Bahar is meant to be fun and big wins for the online casino audience. Since the game is both easy to pick up and fun to play, you can play Ezugi Andar Bahar in no time.
In brief, Ezugi Andar Bahar begins when the game dealer places a single card face-up on the table. This card is known as the joker card and it is placed in the line separating Andar and Bahar. The goal of playing now is to get a matching card.
From that point on, the player will place one card face down on the Andar side. The player will also place one card face-down on the Bahar position of the table. The team that obtains a matching card first from random cards will win. There is no significance to the suit of the matching card but must match in terms of the same value.
The first card is pulled to the Bahar pile if the 'joker' card is red (diamonds or hearts). In the case of a club or spade joker, the top card is placed on the Andar pile. Please be aware that this will modify the default game bonus.
How to Win as You Play Andar Bahar
Those who partake in the main bet may do so on both the Andar or Bahar side of the table. Thus, the Live Andar Bahar Ezugi is based on how lucky you are. Payouts for a successful Andar hit are 0.9:1, while payouts for a successful Bahar bet on the bahar side are 1:1.
Intriguing as the main play may be, it's the side bet that really set this game apart from the rest. Andar Bahar includes eight interesting side bets. A participant can use a side bet to bet on how many cards are dealt during a single round.
Betting on 1-5 cards prior to the corresponding card being given payouts 3:1 chances. The payout for a winning hand of 6-10 is 4:1, and for 11-15 it's 5:1. Increase the number of cards, and your chances of winning improve. With staggering chances of 120:1, the top reward is for 41 or more cards.
There are only two potential results in each round, so even newcomers won't get confused. There will be a short explanation of the regulations and the wagering procedure shown on online casinos while the game loads. When you're ready to begin the process and have read over the instructions several times, select the "OK" button.
Live Andar Bahar Payouts
The payout for your main bet, side bet, or any other bets on the Andar and Bahar are discussed above. However, for emphasis, here's what awaits you when you've dealt a matching card.
Payouts in online Andar Bahar are straightforward to predict due to the game's binary nature. However, there's a crucial point to remember. The odds of winning are marginally increased for the group that is dealt the first card.
For this reason, the win bet ratio is marginally smaller at 0.9:1. However, this also means that Andar and Bahar's bonus varies from round to round. There will be two piles, with the first one paying 0.9:1 and the second paying 1:1.
As more cards are chosen, the side bet pays out more. The only group that rewards as well as 6-10 is 16-25, for some reason. The good news is that it's simple to keep track of all of these figures. In any case, they're constantly visible on the live casino user screen.
Conclusion
It's nice to have an alternative to the standard live dealer casino games. Ezugi Andar Bahar is one of the few gaming products that offer anything outside the norm.
Ezugi Andar Bahar is ideal for adventurous players because it constantly streams new content without sacrificing quality. Players can chat with one another and examine their wagering history in detail with Player History.
Did we forget to mention that you can make the table look cleaner by hiding the chips and stats while playing? All these and many more come with the fantastic Ezugi Andar Bahar. So wait no more – come online, place your bet, and grab your bonus!
Rank
Casino
Bonus
Payout %
Visit
1
100%% up to €500
%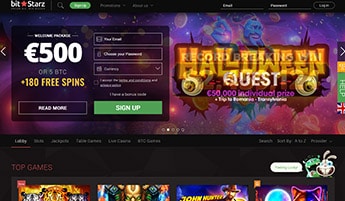 BitStarz - 100% up to €500 or 5 BTC
In conclusion, BitStarz is a pleasant surprise. It certainly isn't just another mundane online and live dealer casino that's shouting "Bitcoin games here!" from the rooftops. The brand is genuine and flaunts a solid game collection highlighted by a massive quantity of slots and a polished live dealer lobby. Its pros continue with free withdrawals, creative promos and bonuses, cash prizes and flawless mobile functionality. Proven fairness and notable accreditation make BitStarz a smart choice indeed.