Dogs are not permitted at casinos unless they are assistance animals.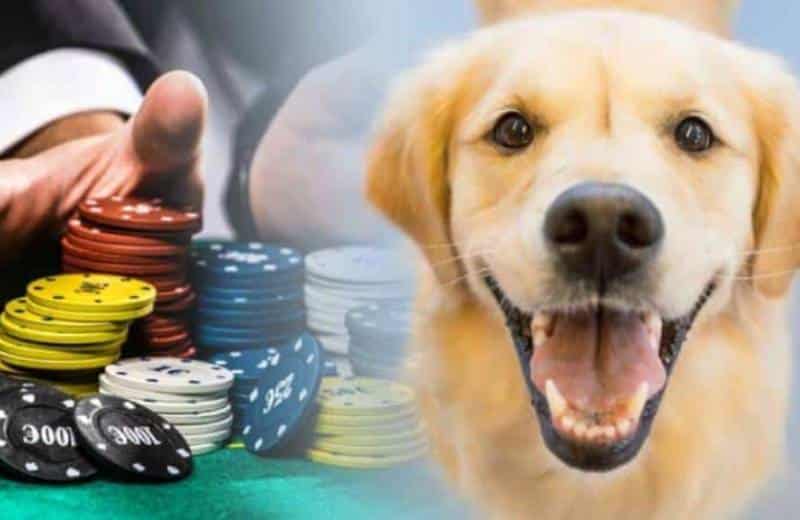 If you enjoy playing at casinos with your dog alone, you must first be aware of the casino's pet policy. If so, what guidelines must you follow, and what additional conditions must you fulfill to bring your dog inside? Even though dogs are everyday companions for people, not all places let them come inside with you.
If you bring a pet but don't follow the casino's rules, you could have no choice but to go home. In the worst-case scenario, the bouncers may escort you outside for breaking the rules. So, are casinos authorized to accept dogs? These are some facts you need to be aware of.
Are Service Dogs Allowed in Casinos?
Service animals are welcome inside casinos and may stay there at any time. In reality, discrimination against handicapped owners whom a service dog accompanies is prohibited by law in most states. In a variety of settings, service animals get in-depth training and socialization. They are renowned for acting appropriately in every situation.
There are several considerations to take into account, though. The owner must first have accurate and comprehensive paperwork. In this manner, the administration can verify that your dog is, in fact, a service dog.
Second, some casinos only permit service dogs in specific locations. Some casinos have pet-friendly outdoor spaces where animals may run around and use the restroom. Concierges at hotels will be happy to offer pet-sitting services to free you up so you can gamble your money away.
Finally, by federal and state rules, casinos must allow service animals and other animals on their grounds. It must go with its proper owner, particularly those who are disabled. You should be able to moderate your behavior and keep your dog under control, though. All service animals must not be a danger to other visitors or a hazard to property (e.g., slot machines, poker tables, carpets, furniture).
If a service dog exhibits improper behavior or becomes out of control, the casino owner has the authority to request that the owner leave with their pet. The owner has excellent responsibility while bringing a service dog to casinos.
Do Las Vegas Casinos Allow Dogs Inside?
In contrast to hotels, bars, and restaurants, most casinos in Las Vegas do not accept pets. Service dogs are permitted, though. On special evenings, several Las Vegas casinos that allow pets could allow dogs, and some only provide restricted access to specific locations.
However, as was already established, assistance dogs are allowed inside casinos. Thanks to their unique training, these dogs can perform particular jobs to assist people with impairments. It may take the form of physical, mental, psychological, or sensory support. The Americans with Disabilities Act (ADA) also prohibits asking you to leave the casino's proximity if you're with a service dog. Your dog must, however, be well-behaved and not hurt any other guests.
You may still bring your dog with you even if it doesn't offer any services or emotional support, but only if your disability makes it necessary for you. The boss will then ask what specific duties or work your dog does for you. A casino has the last say in these situations, and you can be asked to leave their property.
Why do Some Casinos Disallow Dogs?
For various reasons, casinos do not allow dogs in their gaming areas. Our dogs can't always speak and think politely, unlike people. No matter how adorable and beautiful dogs are, some individuals cannot stand being around them.
Casino management must be attentive to other players because casinos are places where lots of people and money are present.
So let's look at typical explanations for why some casinos do not accept our furry friends.
Trouble-Making
Dogs don't think the same way humans do, so some pets may accidentally annoy other players. Additionally, casinos know that while dogs don't spend money, people do. Therefore, their decision is simple: stay away from dogs and favor people.
Dogs can yelp, snarl, be too friendly, and even smell; it wouldn't be acceptable for other casino patrons to do any of it. Because so many bets are being placed at casinos, some players will genuinely detest being harassed. Much less hold you and your dog responsible for their losses.
Barking
Dogs cannot speak, but they can bark. Some dogs simply don't get what "shh" means. A casino is a crowded location. The dog would occasionally bark incessantly when confronted by a stranger. It could result from the environment's noise and stimulation, making the dog more stressed.
Players on the casino floor would become irritated by the dogs' noisy barking. The game and money might be lost if they lose concentration. Dogs cannot be allowed to explore a casino floor. Otherwise, you would have to leave the area immediately, even if the dog is a service animal.
Back to the first regulation, casinos have the right to ask you to leave if your service dog gets unruly.
Giant Dogs
Some dog breeds may be enormous or even monstrous, which is an issue (e.g. Great Danes). They take up an excess of room and annoy the other gamblers close to you.
Letting your enormous dog play alongside you when you are sitting down would be hard because other gamers might not want any annoyances. Would you also be prepared to control the dog's actions among humans and other unfamiliar parties? Although most gigantic dogs are amiable, any exciting situation with too many people might cause them to act oddly.
Many people are afraid of dogs.
Let's be honest about it. Not everyone likes dogs! Many people are terrified of these lovely creatures. Some individuals didn't grow up with dogs and consequently don't feel at ease with these animals, and their emotions may cause worry.
Trauma is another factor contributing to dog phobia, which can be because the person was bitten by a dog when they were little. We all have fears. Therefore, if other people are terrified of your dog, you must show them respect.
Are there pet-friendly casinos?
Unfortunately, there aren't many casinos that allow pets if you don't have an assistance dog. Allowing dogs inside with people would be too unsafe for management. However, casinos should allow you to bring your service animal if you have one. As long as the paperwork is accurate, several of Las Vegas's largest casinos already accept service dogs.
Being responsible and respecting the law entails bringing your dog to the casinos. You can have problems bringing your pet within the area unless it's an assistance dog. It is It is recommended to inquire about the casino's pet policy. Knowing the criteria and regulations regarding dogs in casinos is very significant.
Also Read:
Rank
Casino
Bonus
Payout %
Visit
%
Tuah is an experienced writer and casino enthusiast with 12 years of industry knowledge. With a degree in Journalism, he delivers objective and comprehensive casino reviews, covering game variety, user experience, security, and customer support. From slots to blackjack, roulette to poker, Tuah's expertise guides both beginners and experienced players in making informed decisions. Expect engaging articles providing valuable insights for an enhanced online gambling experience.