Live Blaze Auto Roulette Authentic Gaming
Authentic Gaming may not be as popular as Evolution Gaming but they sure have what it takes to be among the top. This company has not failed to marvel its fans with its classic betting wheel and roulette ball games. A peek into their Authentic arena will provide you with the best European roulette games that assure you massive payouts.
One such terrific live roulette studio is the Live Blaze Auto Roulette. Since its release, the game has proven to be a massive success. People from different parts of the country now play Blaze roulette on their mobile devices or any other preferred platform. Whether high rollers or newbies, the betting game has all it takes to transform your online experience.
What should you know about this game in totality – its features, gameplay, and strategies? Read on to the end to learn everything you need to know to play Baze Roulette at your preferred live casino.
What is Authentic Gaming Blaze Live Roulette Game?
Authentic Gaming Blaze Roulette is a live gambling version of the classic roulette table game. It takes place in a futuristic facility that has LED light effects, additional displays, etc. This live game features stunning visual effects and is facilitated by an actual player.
Blaze Live Roulette is one of the four variations of roulette tables that can be played in Authentic Gaming's luxurious studio in Malta. The other types of roulette tables available from Authentic Gaming are Classic, Speed, and VIP Roulette.
The studio itself is outfitted in accordance with the most recent developments in technological innovation. It is streamed around the clock. There are a total of six tables located within the facility, each of which is filmed using cutting-edge cameras. These cameras cover the wheels from a variety of perspectives in order to record each and every second of the activity. It also covers the most minute changes in the position of the ball.
Blaze Live Roulette is a semi-automated variation that players can access around the clock. However, if they want to play while a live dealer is presenting the game, there are certain times to play. This is usually between the hours of 7 p.m. and 1 a.m. Central European Summer Time (CEST).
Outside of this time period, the Authentic roulette wheel operates on its own. This provides a streamlined and concentrated game. Players who prefer a linear flow that is unaffected by any external distractions would love these moments.
Extra Features of Authentic Gaming Blaze Roulette
Authentic Gaming Games provides the engine for Blaze Roulette. If you didn't know, Authentic Gaming is an expert at live roulette. They are based on such studio games, but the business also broadcasts live roulette games from some of the world's most renowned casinos.
The emphasis of Authentic Gaming's Blaze Roulette is on enjoyment. The European Roulette game is played on a standard European roulette wheel. However, the winning numbers flash on the glass table layout.
Good Variety of Live Roulette
Authentic Gaming Blaze Live Roulette is a form of live dealer roulette game. This means that, unlike some other live casino games, this game makes use of a live dealer. The live dealer makes each game round played as interactive as a land-based casino. They do this by providing commentary and entertainment.
Placing Bets
Even though there is a dealer present, the dealer never actually involves in spinning the auto roulette wheel. As the name implies, the roulette wheel spinning in each game round is automatic. The dealer in Automatic Gaming Blaze Roulette game does nothing more than push a button to initiate the spinning of the wheel. The person is also in charge of shifting a glass marker to reveal the winning number.
Playing Interface
The use of multiple camera angles adds a pleasant touch to the production. Multiple cameras move around to different angles of the table, wheel, and dealer. To take part in this game is to feel like you're on a game show. This appears to be the primary intention behind the placement of the cams. As the dealer moves around the studio, they pan and zoom in on the lucky digits.
In Blaze Roulette, both the gameplay and the presentation are given similar weight. The studio where the game is being broadcast is fully outfitted and tastefully furnished. Furthermore, the lighting is excellent and worth checking. It makes the roulette game appear less like regular roulette games and more like a high-quality live arena malta.
The game's soundtrack is the one area where development could be strengthened. When the dealer talks, there is a faint echoing sound that can be distracting. The good news is that we anticipate this problem being fixed quickly. In terms of the live speed, rest assured that it is top-notch quality irrespective of the mobile devices used.
How to Play Blaze Roulette from Authentic Gaming
We'll show you everything that'll go down when you try out Authentic Gaming Blaze Live Roulette. Here's what you need to do to play Blaze Live Roulette:
Once you step inside to play Blaze Roulette the dealer will ask you to put your wager on the screen. There are the usual options for betting on European roulette, such as the cold numbers, red/black, and columns. You may place inside bets, outside bets, neighbour bets, etc.
The stage, wheel, tables, and dealer will all be visible from different perspectives for as long as the wager window is available. It's great, but your wager must be made before the wagering window ends. When the betting period is coming to an end, the dealer will let you know.
The dealer will eventually unleash the blaze roulette ball by pressing a switch on the table. This is a computerized version of the classic roulette game. When you let go of the ball, the camera zooms in for a closeup of the rim. While this is occurring, you will hear some lively music.
Winners will be announced by the dealer. On the Blaze Roulette wheel, however, both the number and its color will illuminate. To further emphasize this number, the dealer will also place a glass sign there.
Winners will be congratulated by the dealer. Their winnings and losses will be recorded mechanically, and the next wagering round will start without delay.
Meet Authentic Gaming | A Brief Intro for the Producers of Blaze Live Roulette
Authentic Gaming provides live roulette goods for both internet and brick-and-mortar casinos in the iGaming industry. The European roulette table provider's primary focus is providing live gaming content that is being streamed from luxury casinos worldwide.
This is in contrast to other well-known live dealer solutions like Evolution Gaming, Ezugi, Lucky Streak, and BetGames. These roulette table providers stream games primarily from their proprietary studios.
More recently, Authentic Gaming has established Arena, its very own in-house company. Sessions with live dealers can be watched from the comfort of your own home, thanks to live streaming from casinos worldwide. The only game offered is might be the European roulette table. Still, players have the option of playing alongside real-life casino patrons, exclusively against computer-controlled opponents, or without a host at all.
Are there Downsides When You Play Blaze Live Roulette?
We're confident you, like every other player, have your own personal tastes when it comes to the game. Some potential complaints about Blaze Roulette are listed below:
Difficult to Focus on Due to Too Many Extras: The Authentic Gaming Roulette has a lot of extras that can be distracting. The room is brightly lit, the camera moves around frequently, and the croupier is constantly speaking. Although this is how the game is intended to be played, traditional roulette fans may be turned off by it.
Auto Roulette: Indeed, authentic roulette guarantees you fairness in the game. Despite this, some players prefer manual wheels while others prefer an automatic mechanism when bettingg. In these types of issues, some players would rather have a a human led board for the touch in the gaming experience. Still, not everyone is of this opinion.
The pace at betting tables: To play Blaze Roulette is entertaining, with the teller sliding the glass marker on the roulette table, and so on. However, an average game can be completed in under a minute. Faster tempos are preferred by some.
PLAY THE Blaze Live Roulette by Authentic Gaming FOR REAL MONEY
With Authentic Gaming Blaze Roulette, you can be versatile with your bets, trying inside bets, outside bets, etc. Did we forget to mention it's racetrack feature? Plus, it has a house edge of only 3.70%. You can bet with the certainty that there is nothing manipulating the game and expect your real money payouts.
Finally, if nothing, still, will make you go for Authentic Gaming Blaze Roulette, then consider auto roulette game massive payouts. It's certainly one of its best you'll find in the world in terms of payouts. Auto roulette is safe, certain, enjoyable, and everything else you wish it to be. It receives the best from us.
Rank
Casino
Bonus
Payout %
Visit
1
100%% up to €500
%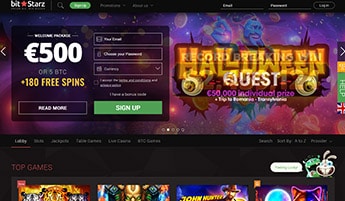 BitStarz - 100% up to €500 or 5 BTC
In conclusion, BitStarz is a pleasant surprise. It certainly isn't just another mundane online and live dealer casino that's shouting "Bitcoin games here!" from the rooftops. The brand is genuine and flaunts a solid game collection highlighted by a massive quantity of slots and a polished live dealer lobby. Its pros continue with free withdrawals, creative promos and bonuses, cash prizes and flawless mobile functionality. Proven fairness and notable accreditation make BitStarz a smart choice indeed.