Live Craps Evolution
Craps tables were consistently among the busiest in casino gaming, but the game didn't translate well in the online casino world. Due to its complexity and sluggish pace, the online craps table is best enjoyed as a community game. That's why most programmers didn't bother trying to make a live craps casino game.
However, Evolution Gaming brought to life novel approaches in this field that will thrill craps enthusiasts. Live Craps Evolution is one of many live dealer games and other live craps table games that debuted in 2020. Still, this live dealer craps game from Evolution Gaming is basically the only live casino game you should focus on. If craps online live version proves potent in live studio establishments, we could see scores of variations in the not-too-distant future.
In this post, however, we'll give a comprehensive craps live review to make the complicated game easier for you. You would also get info on playing craps live to ensure you enjoy playing every aspect of the game. Read on to the end, so you won't miss out on anything.
What is Craps Live Evolution Gaming?
The need for the perfect crap live online game led Evolution Gaming to launch Live Craps. According to representatives from Evolution, the primary objective was to keep the grandeur of the original live dealer game intact. The game captures this, as it was inspired by a bar from the Roaring Twenties. When it comes to gambling, that's about as "traditional" as it gets.
However, the most difficult challenge they faced was recreating the social atmosphere of playing live craps. It goes without saying that there is a messaging function, but the "Applause" icon is also included. Use that button liberally, and you'll feel closer to the excitement of cheering a fortunate run.
Additionally, Live Craps by Evolution gives its customers the freedom to play craps online from any location. With the Live Craps strategy, everyone still plays at the same table. It's just like real dice in Las Vegas: if one person scores, everyone at the table does.
Online Live Craps Game Overview: First Look at Evolution Gaming New Table
Evolution Games Live Craps is a perfection in its niche. You simply need to lay odds, place bets and grab your live craps payouts on online casinos.
Is there a live dealer at the table?
In Craps Live casino, a live dealer is present at all times, though the live dealer has little impact on the outcome of the game.
Dealer Assist
The job of the dealer is to load the dice onto the mechanical limb, which adds a chance element to each come out roll.
Table State
The return to player (RTP) for Craps Online ranges from 88.33% to 99.17%. Third-party auditors check in on Live Craps Evolution on a frequent basis. Their job is to make sure nothing is being tampered with and that every dice roll is completely random.
Legal Nature
Even if that isn't enough to sway you, know that Craps Live casino holds a whopping eleven permits from various governing organizations. When compared to the standard practice of software vendors, it is refreshing to see a business so committed to doing the right thing legally. They are also encouraging openness at every level, unlike some businesses that tend to be primarily concerned with securing a Maltese license only.
Beating the Game: Understanding Live Craps Terminologies
Firstly, Craps Live Casino allows you to restrict options to just one dice roll at a time in easy mode, unlike some live dealer games. Good news for greenhorns: this provides a gentle introduction to the ins and outs of dice.
Second, let's review briefly the various wagers available. We'll begin with one roll bet.
One Roll Bets
These bets are based solely on the outcome of a single roll. It's not necessary to keep rolling the dice until a certain number comes up. Your luck with the dice will either be in your favor or it won't. In this case, they are as follows:
The fields: To win a single wager, you need to guess that the final tally will be 2, 3, 4, 9, 10, 11, or 12. If you get a 2 or 12, your payout is doubled. This is your best bet.
2, 3, 11, 12: Bets are placed on the possibility that one of these numbers will be drawn. The payout for the 2 and 12 is 30:1, while the payout for the other two digits is 15:1.
Seven: Sevens are fairly common, and the fast payoff of 4:1 can be a nice increase to your bankroll.
Craps: You are placing a wager on the dice having a result of 2, 3, or 12.
Craps and Eleven: Craps and Eleven (C&E) is essentially an expansion of the standard Craps wager, with an additional possible outcome of 11.
Multi Roll Bets
Multiple-roll wagers are the current area of emphasis. A succession of rolls can lead them to victory or defeat, as the name implies. We recommend that first-time craps players start playing with one-roll wagers until they feel comfortable with the game's pace. You can attempt your luck with these bad guys once you know what's going on with them:
Number Bets
If you place this wager, you're hoping that point number 7 will appear before the numbers 4, 5, 6, 8, 9, and 10. We term that a defeat. On the other hand, a victory means you are betting that these digits will appear before the number 7. If you roll any other point number, it doesn't matter and you'll have to try again. All the digits or just one can be wagered on, depending on your preference.
In Craps Online, this is one of the most exciting wagers. When the entire foyer is anticipating the appearance of that point number 7, the tension mounts quickly.
Hardways
When an outcome is composed entirely of the same integer, we call it a hardway. A hard 4 is composed of two 2, a hard 6 is composed of two 3, and so on. You are essentially wagering that a hard number (2, 3, 8, or 10) will appear before an easy number.
Pass Line from a come out roll
The "come out" throw kicks off this wager. A victory is guaranteed if the die comes up 7 or 11. There is an immediate forfeiture on a 2, 3, or 12, but a point is established for all other numbers. A 5 would now be your lucky number. If you roll a 2, 3, 7, 11, or 12, you want to try again until you get a 5.
Don't Pass
Don't Pass is the reverse of Pass, where you win money on a 2, 3, and lose money on a 7, or 11. If you roll a 12, you get to try again. You're still using the same point system, but with a don't pass wager, you're hoping that 7 will roll before 2, 3, or 12.
Don't Come
Similar to the first two, but only activated with the ON symbol beside the numbers line. Come is equivalent to the pass line wager. The opposite is also true, with the alternative being akin to a custom "don't pass" wager.
How to Play Live Craps Online on a Live Studio | Live Craps Rules Explained
In a typical Evolution Gaming manner, the creators made adjustments that preserved the game's recognizable style. This makes new players play more easily. Take it from us, playing craps is simpler than it seems at first glance:
Select a Casino Site that Offers the Popular Casino Game
This might seem apparent, but make sure the online casinos you're considering offer Craps Live. Check out these live casino reviews before going for them. After selecting one, sign up for an account, and then fund it with a payment and the quantity you wish to wager. When you're done, enter the casino game.
Place Your Live Crap Bet
Having entered the foyer and seen Evolution's massive new facility, we can get down to business. We recommend that novice players use the Easy Option user interface. In a single stroke, you can accomplish this immediately.
Complex multi role bets will no longer be visible in the user UI after taking this action. The different bets remaining are the simplest ones, like single roll bets, which are crucial for beginners. Simply hit the option corresponding to all the bets you wish to make and enter your minimum bet. There is only about a minute in between stages for you to do this.
If you're a seasoned player, you can stick with the standard UI and place hardways bet. To place your Live Craps bets, click the boxes next to the stake titles, then click again to choose the number of chips to wager.
See the Mechanical Arm in Action
Dice are not shot by the operator in Craps Live. There is a mechanical arm that does the work instead. You heard that correctly! Anyone will fall in love with this offbeat choice of the mechanical arm at first sight. However, its inclusion is about so much more than mere aesthetics.
The mechanical arm rolls the die with varying speeds and amounts of power, eliminating two problems at once. It eliminates the human variable while simultaneously simulating the randomness that occurs when a dealer tosses. Due to this, making a mistake is extremely unlikely.
Evolution created Craps Live so that the dealer places the dice into the arm box, making the procedure even fairer. Such a method guarantees complete unpredictability and closes off all possible loopholes that could be used to cheat.
Keep an Eye on Your Winning Bets and Bet Spots with "My Numbers."
After a roll of the dice, you can check on the progress of your wager in the My Numbers area of the excellent Evolution user interface. It shows your current bet amount, bet type (whether multi roll bets, roll bets, one roll bets, etc.} and the precise payout amount. All are displayed in the bottom right area of the screen. Keeping an eye on your stats in the "My Numbers" area is a wonderful way to maintain focus during the game.
Check to See if You Won, Applaud, and Get Excited!
Plus, in Craps Live casino, participants can clap and celebrate even if they aren't betting during the pass bets. The messaging feature allows players to converse with one another and the always-friendly Evolution dealers about anything related to the gaming experience.
Where Can I Play Evolution Live Craps Online?
Live Craps Evolution is broadcast in real-time from several Evolution Gaming facilities, most of which are based in Riga, Latvia. However, the company has established a number of other sites across Europe. This was basically to increase their cultural influence and have a more direct effect on players. Thus, you can access your Live Dealer Craps activities from various places including Spain, Pennsylvania, Malta, Georgia, and more.
Conclusion
Live Craps is an excellent game compared to the traditional craps table. Enjoy every landmark moment and all the excitement that come with it. If you need any help, refer to the craps tutorial for guidance.
Rank
Casino
Bonus
Payout %
Visit
1
100%% up to €500
%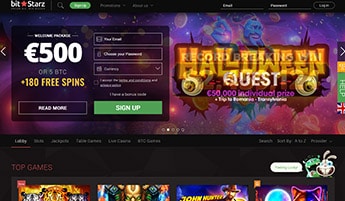 BitStarz - 100% up to €500 or 5 BTC
In conclusion, BitStarz is a pleasant surprise. It certainly isn't just another mundane online and live dealer casino that's shouting "Bitcoin games here!" from the rooftops. The brand is genuine and flaunts a solid game collection highlighted by a massive quantity of slots and a polished live dealer lobby. Its pros continue with free withdrawals, creative promos and bonuses, cash prizes and flawless mobile functionality. Proven fairness and notable accreditation make BitStarz a smart choice indeed.