Live Football Studio Evolution
Football is the most popular sport in the world. So, it wasn't surprising when Evolution Gaming Studios released a live dealer game based on the football theme. The game was originally created in 2018 for the World Cup. However, it has grown to become one of the most popular live casino games.
The Evolution live football studio appeals to football fans because it also serves as a platform where they can discuss upcoming games. In this article, we shall provide you with all the details you need to know about the game. You'll learn how to play football studio, the game's RTP, and the payout rate.
An Overview of Evolution Live Football Studio
At first glance, one can tell that this game centers around football. The backdrop behind the dealer is a football pitch, and the same applies to the betting area. Its betting options include terms like home and away which are usually associated with football.
Evolution is known for its quality stream, and its football studio is no different. Players will enjoy high-end graphics and outstanding audio quality on both computers and mobile devices. Though you can't watch football matches in the game, the commentator gives you updates about upcoming games in football leagues like La Liga and the Premier League.
How to Play Live Football Studio
Playing this card game is simple. However, you must first find live casinos that offer Evolution Games. Then, you have to register on the platform and make a deposit. Keep in mind that this is a live dealer game, so you can't play it for free.
After a successful payment, head to the game lobby and search for the Live Football Studio. Some online casinos might have the Football Studio Dice, which is a variation of the game. Afterward, launch the title to start playing.
Every round begins with a betting period that lasts for a few seconds. During this time frame, players select their betting options, which include home and away bets or the draw bet. Basically, you have to guess which side of the table (home team or away team) will have a better value. If you place a draw bet, you're wagering that the cards dealt to both sides will have the same value.
To place a wager, select one of the coin denominations and put it on the part of the table you want to bet on. You must do this before the betting round is over. Each of the hands (home and away) has percentage circles that tell you the percentage of players betting on that option. It functions more like a "cold" and "hot" number feature on some games.
The round continues after all bets have been placed. Next, the host will draw two cards, one for the home team and another for the away side. The value of the two cards is compared, and the side with the highest value wins. The round ends in a draw if the values of the two cards are equal.
Game Features
Apparently, Evolution thought to make this a very simple game, one that you can play even while watching football matches. As a result, it didn't add any side betting options, as it does with most live casino games. Regardless, there are a few features that make the game even more valuable. These include:
Football fixtures and results: You can view results and scores from your favorite teams in the football results and fixtures section. Choose your league by clicking "Add League," and all results will be shown here. Even if you're not watching the game, you can keep up with the outcomes when playing Football Studio.
Chatting with Other Players: You can speak to your other players during in-game chat about football-related news! The host will join in on the discussion.
Dealer Predictions: The presenter is not only available for general conversation about football but is also happy to share their predictions for forthcoming games.
Payouts
This game has a very simple reward system. If you place a home or away bet and win, you get a payout of 1:1. This means that you can bet an amount equal to your wager in addition to your main bet. Although the wager lacks excitement, it does provide a reliable return of 96.27%. If, however, you have your sights set on more substantial prizes, you can wager on the game ending in a draw.
The payout for a correct prediction is 11:1, which is significantly more than the payout for home or away. In the event of a draw, you also get your original bet's half back. Yet there's a huge problem with placing draw bets.
Draw wagers have a theoretical RTP of 89.64%. If you compare this to the other two big wagers, you can see that it is far lower. Furthermore, it has a lower chance of winning than the other betting options. As a result, despite its payoff, the draw is not an option that you should opt for if you're not willing to lose often.
Is There a Strategy for Winning Evolution Live Football Studio?
Since there is no way to know the winning card, the best strategy to use is to place a bet on options with a better chance of winning. This means betting on either home or away, and avoiding the draw bet. However, if you're chasing big wins, the draw bet is a better option.
FAQ
Rank
Casino
Bonus
Payout %
Visit
1
100%% up to €500
%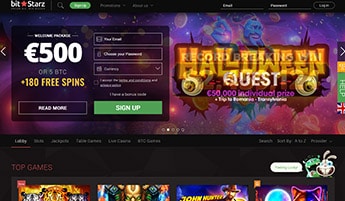 BitStarz - 100% up to €500 or 5 BTC
In conclusion, BitStarz is a pleasant surprise. It certainly isn't just another mundane online and live dealer casino that's shouting "Bitcoin games here!" from the rooftops. The brand is genuine and flaunts a solid game collection highlighted by a massive quantity of slots and a polished live dealer lobby. Its pros continue with free withdrawals, creative promos and bonuses, cash prizes and flawless mobile functionality. Proven fairness and notable accreditation make BitStarz a smart choice indeed.