Live Golden Dragon Baccarat Playtech
Playtech always has something cooking for players in the online gaming industry. Now, they are partnering with the FashionTV gaming group to shake the live casino market. The result is a mind-blowing game that appeals to any baccarat player.
With the introduction of not one but two dealers, Golden Dragon Baccarat brings back the glitz and glamour of Macau's gaming locations. The English-speaking dealer handles all card dealing, while the Chinese-speaking croupier co-hosts the sessions. Playtech is the only major live software company to offer this at the time. Since the creator can now appeal to two distinct groups of people with a singular set of working prototypes, it gains a competitive edge.
Keep reading to learn more about this elegant new luxury line, a business model that would shake borders. Enter the immersive world of Playtech and FashionTV Jackpot Baccarat.
Live Golden Dragon Baccarat | Features | Betting, Side Bets, and Progressive Jackpots
Playtech's baccarat decks come in a wide variety of designs and styles. There are basically two sets of rules when considering only the primary game (Banker, Player, Tie wagers). Before we dive into more details about these games, we must note that the game has a great layout. This includes different studios, normal deals, speed deals, multi-camera angle squeeze tables, player-controlled squeeze on the VIP tables, etc.
Here are the two basics to consider:
Regularly occurring rewards in Punto Banco baccarat:
If you wager on the banker hands and they prevail, you will receive 0.95:1 (even money minus 5% house Vigorish). The player winning would pay out 1 to 1. There is an 8 to 1 payout on a tie.
Payout baccarat without a commission:
For all numbers except 6, a banker win gives 1:1. If you win with a banker, you'll receive a payout of 5:6 for any number other than 6. Winnings on a player's wager are 1:1. Again, there is an 8 to 1 payout on a tie.
The features above make Golden Dragon stand out from other baccarat online games. Asides from these, every other feature is essentially the same.
Side Bets – Pair and Size Side Bets
This live dealer game has the following delectable options if you feel like treating yourself:
Pair: There are four possible pairs – a player pair, a banker pair, an either-pair, and a perfect pair.
Big/Small: These are card-counting wagers. Big = 4. Modest = a 5 or 6
Egalitarian: Placing a wager on the exact number of points a tie would be worth.
Bets with a progressive payout (on their Progressive Baccarat table only): The rewards for side bets are prominently presented on the user interface. Payouts for a 9-way draw are shown in green (Egalite) at the very bottom.
These Live Baccarat bets are a huge deal at Playtech Romania live casino. Keep in mind that side wagers have higher chances of winning, which is why you should steer clear of them. Even if they seem like a good deal at the time, the profits they provide are usually terrible.
Game RTP
The theoretical best payout percentage for players (Banker bet): 98.94%
Statistics
The round's information is displayed on a colorful circular card below the game screen. Specifically, it shows the total bet on Banker, Player, and Tie, as well as the number and proportion of users who have gambled on each. If you don't want to see the wagering records, you can turn that option off in the options.
The baccarat scores are posted on no less than five separate scoreboards. Bead Road, Big Road, Big Eye Road, Small Road, and Cockroach Road are all real streets in the area.
Experienced Baccarat players will be acquainted with the scoreboard marks. Newcomers can learn more about the game's scoring systems in the Help menu. The amount of successful player, banker, and tie wagers within the present shoe is also displayed statistically. When there is only one deck remaining in the shoe, all of the cards are put back into the shoe to begin a new statistical cycle.
Live Golden Dragon Baccarat | How to Play at the Baccarat Tables
Playtech Romania live casino combines Fashiontv branded entertainment experiences to provide this epic gaming experience. Here's how to enter the immersive world of Golden Dragon jackpot and enjoy an engaging gambling entertainment experience:
Firstly, you need to visit one of the online casinos that offer this business model of the popular live dealer game. There are several live casinos leading brands offering Golden Dragon Jackpot. They are well discussed in the "where to play" section below.
In keeping with its moniker, Live Golden Dragon Jackpot Baccarat creates an atmosphere reminiscent of real-life casinos in Macau. Standard baccarat regulations apply, and participants may choose to bet on either the Player, the Banker, or a Tie bet to begin. In addition to the primary bets, a horizontal array of "Egalites" is set up for the secondary bets. These secondary bets may be Player/Banker Pair, Perfect Pair, Either Pair, Big, and Small.
Players can increase their stakes on a Tie gamble by betting on any individual number from 0 to 9 with an Egalite. Side bets, such as Tie 2, offer much larger payouts, up to 220 times the original stake.
It's worth noting that the high payout possibility in Live Sette E Mezzo Playtech is countered by much smaller table boundaries for all side bets. The Main Menu option contains the paytable and the complete list of boundaries for Live Sette E Mezzo Playtech. Additionally, there is also a Live Chat window that sits in the top right area of the screen, allowing players to interact and seek assistance while enjoying their Live Sette E Mezzo Playtech experience.
About Live Dragon Jackpot Baccarat Founders | Playtech
Playtech is a technology pioneer in the gaming and financial trading sectors. It employs over 7,000 people from a total of 24 different nations. The company was founded in 1999 and is premium traded on the Main Market of the London Stock Exchange
The company is the leading global luxury provider in the gaming industry's most popular product categories. They offer software, services, content, and platform technology for casinos and the live casino market. They also cover sports betting, virtual sports, bingo, and poker.
Playtech ONE, its combined platform technology, made the company one of the securing leading brands in the online gaming industry. It is a unified platform for all of Playtech's retail, online, and omnichannel offerings. It delivers data-driven marketing knowledge, single-wallet features, customer relationship management, and responsible gambling solutions in a blockbuster format.
Playtech invests in and forms partnerships with bestselling luxury line companies constantly. This way, it distributes its data-driven gaming technology throughout the offline and online gambling value chain. It also penetrates newer markets this way.
As a B2B company, it sells its products to major companies in the retail and internet gambling industries. It also sells to land-based casino organizations and government-sponsored businesses like lotteries. Snaitech, Italy's largest online and retail sports wagering and gambling business, is wholly owned and operated by Playtech.
Finally, Playtech controls Finalto, a B2B and B2C market champion in CFD and financial trading technology. However, as of the end of the year 2020, Finalto is considered to be a defunct business.
FashionTV Jackpot Baccarat Game and Playtech Baccarat | Industry Giants Turn to Each Other for a Critical Growth Engine
FashionTV Gaming group has partnered with Playtech to bring a most engaging gambling entertainment experience of a full luxury line. The most popular gaming software provider, Playtech, has announced the launch of FashionTV Jackpot Baccarat.
This game combines the power of these two industry giants, providing a blockbuster format of the well-liked live dealer game. Here, Playtech technology meets the ingenuity of the Fashion TV Gaming group.
The FashionTV Gaming Group is the single owner of the FashionTV megabrand for video games. It is one of the fastest-growing companies in the online gaming sector. The FashionTV luxury line has been a darling among millions of viewers around the world for over 25 years. It is the go-to source for information on new luxury line fashion and lifestyle.
Playtech Live's new FashionTV Jackpot Baccarat game is the first in a line of luxurious FashionTV-branded entertainment options. As of January 2022, Playtech licenses will have access to FashionTV prize Baccarat. It is the perfect combination of FashionTV's creative power and the return of the renowned golden dragon prize.
Casinos with Live Dragon Jackpot Baccarat
There are different casinos where you can enjoy this exciting new game. Some of the best choices for you are Bet365, Mansion, DafaBet, Europa Casino, Casino Tropez, etc. These casinos are among the leading options and you can rest assured you'll get the best experience.
Enjoy Playtech and FashionTV Gaming Group Baccarat Masterpiece Today!
This is the baccarat table for you if you want to simulate the atmosphere of the most luxurious Asian casino hotels. However, not everyone will enjoy playing Golden Dragon
Having the second croupier communicate with the first croupier through her coworker is not can be confusing or slightly annoying at times. Of course, you can turn off the audio and carry on without disturbance, but that sort of negates the point. Still, Playtech's Live Golden Dragon Baccarat gets incredibly close to capturing the same excitement and allure.
Rank
Casino
Bonus
Payout %
Visit
1
100%% up to €500
%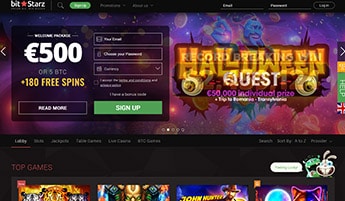 BitStarz - 100% up to €500 or 5 BTC
In conclusion, BitStarz is a pleasant surprise. It certainly isn't just another mundane online and live dealer casino that's shouting "Bitcoin games here!" from the rooftops. The brand is genuine and flaunts a solid game collection highlighted by a massive quantity of slots and a polished live dealer lobby. Its pros continue with free withdrawals, creative promos and bonuses, cash prizes and flawless mobile functionality. Proven fairness and notable accreditation make BitStarz a smart choice indeed.