If you've been playing casino games for any length of time, you've most likely heard someone talk about a game's 'house edge,' also known as 'house advantage.' As the name implies, this term refers to any casino's mathematical advantage over its players, typically expressed as a percentage.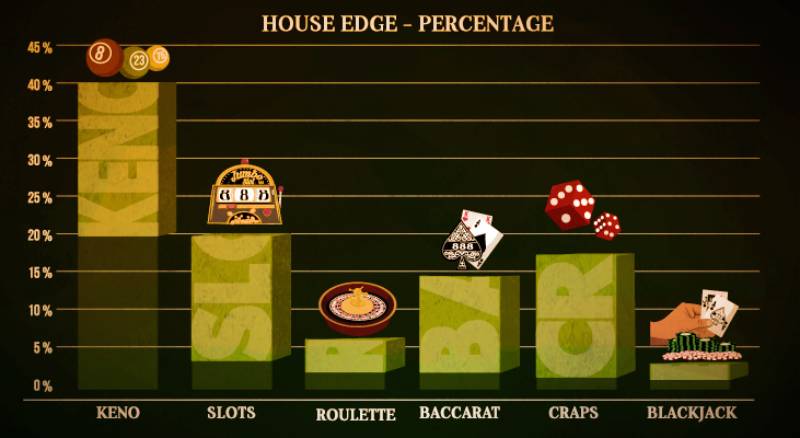 It can be beneficial for players to understand the house edge percentages associated with each game, especially if they intend to play more than one type of casino game.
Roulette
The house edge in Roulette can vary greatly depending on the variant. The house edge in a standard European Roulette game is 2.7 percent, whereas the house edge in an American Roulette game is 5.25 percent due to both a 0 and 00 pocket.
So, how do other casino games compare to Roulette regarding house edge? This section looks at the casino's advantage in three of the most popular games available today.
Blackjack
Understanding the house edge in Blackjack is a bit complicated because it can vary slightly depending on various factors. The difference here is that, whereas the house advantage in Roulette changes due to the format of the wheel, the house advantage in Blackjack can change depending on the player's strategy.
The house edge is approximately 2% for rank beginners who have had little exposure to the game. If a player employs a basic strategy, the player can reduce this figure to around 0.5 percent. A Blackjack player with years of experience and who knows their way around a table well can reduce the edge even further towards zero – but they will never be able to eliminate it.
Slots
Unlike Blackjack, where skill is required for gameplay, Slots operate more like Roulette, with the player unable to influence the house advantage with their decisions. The house edge can be higher or lower depending on the type of slot machine and game selected by the player.
The house advantage of a slot machine is typically expressed as a percentage known as RTP, which stands for Return to Player and represents the percentage win rate that a player can expect from any given title. For example, if a slot machine has an RTP of 90%, the machine's house edge is 10%. The average RTP for an online slot game ranges between 95 and 98 per cent.
Baccarat
Outside of Asia, Baccarat is not as popular as Blackjack or Slots. Baccarat has a lower house edge than Roulette, but as with Blackjack, this can vary depending on betting decisions and player experience.
The house edge on the Banker bet is 1.06 per cent, but the house edge on the Player bet is 1.24 per cent. The Tie bet in Baccarat increases the house advantage to 9.5 percent. Furthermore, by changing some aspects of gameplay, such as the number of decks used, the house edge can fluctuate even more.
Rank
Casino
Bonus
Payout %
Visit
%