Mega Wheel Pragmatic Play
Live casino games are genuinely a landmark in the unrelenting player-engagement emphasis that is the world of live casinos. Pragmatic Play has proven that they are more than ecstatic to finally unveil their version of the famous live casino game shows.
As a matter of fact, the company assures that this is just the first of many to come. They are serving their game of chance raw in response to the needs of the market at the present time. This masterpiece has turned out to be the Live Mega Wheel game.
The Mega Wheel game is a form of Wheel of Fortune game but even more epic than you imagine. In this post, we shall explore the different features of this live game. Ensure you read on to the end for comprehensive information on how to play Mega Wheel.
A Brief Live Mega Wheel Review | Pragmatic Play
Before we dive into the in-depth details of the game, let's quickly comprehend what the Live Mega Wheel game is all about.
What is Pragmatic Live Mega Wheel?
The Mega Wheel is a new live casino game show of chance developed by Pragmatic Play. The top content supplier in the gambling industry officially dropped this massive success in late 2020.
New customers will feel like they're participating in their favorite TV game show thanks to the live dealer game hosts. The game's centerpiece is a mega wheel of fortune divided into 54 separate sections with multiple numbers and symbols. Each number represents a corresponding payout.
What are the Mega Wheel Rules and Directives for Game Play?
The aim of the game is to guess the final number on the wheel when the wheel stops. This idea is built from the ever-popular Big 6 and Money Wheels. If you bet correctly, you could earn as much as 40 times your initial wager.
What is the Mega Lucky Number?
Each time you spin the wheel, a single number is chosen at random to be the Mega Lucky Number. This leads to your bet multiplied payout for a Mega victory that is worth a whopping 500 times your initial bet.
Playing the Live Casino Game
You can communicate with the presenter, other players, or the live support staff on the betting systems. There are advanced features like "autoplay" which allows you to place your maximum bet automatically. There are betting options like:
"bet on all" (which includes all 9 bet categories in a single move)
"advanced bets validation"
a detailed bet history, and more.
The default is English, and there are over a hundred different currencies and twenty different user interface languages to choose from.
Pragmatic Play's Studio Features
The cutting-edge colorful studio, designed meticulously from the ground up for the game, provides an immersive experience reminiscent of the vibrant world of Sweet Bonanza Candyland by Pragmatic Play. It features dynamic colors, lights, sound effects, and movements that adapt to the player's actions in real time. During the game, participants can interact with the presenters through chat, recreating the feel of the ubiquitous TV game show structure, while capturing the essence of the candy-filled adventures in Sweet Bonanza Candyland Pragmatic Play.
Key Features of Pragmatic Play's Live Mega Wheel – The Multiplier Power
Pragmatic Play Live Mega Wheel mechanics make the game stand out. Its larger Pragmatic Play's Mega Wheel is more than enough to set it apart from similar live casino games. Nonetheless, the maximum multipliers option is still available.
At the start of each round, a random number will be chosen. If that number turns out to be the winner after you spin the wheel, the payout will be increased by the specified amount. Since the RNG computer chooses both the number and the maximum multiplier, no wager has an unfair edge.
The scale of available multipliers goes from random multipliers of 4x to mega multipliers of 500x. This, however, is also a function of the multiplicative nature of the bet in question. A general rule of thumb is that an increase must be greater than the initial side bets.
It wouldn't make much sense, for instance, to lower a 50 bet to an 8x multiplier. However, the multiplier's potency increases with the size of the bet. In the same line, 2 can be multiplied by up to 200 times, while 1 can only be increased by 100. The highest possible increase for the 5, 8, and 10 is 250x. The Mega Wheel has massive multipliers of 500x for the numbers 15, 20, 30, and 40.
Language Feature
The language feature also makes the live game even easier to play Mega Wheel. There is currently only an English-language broadcast of Mega Wheel Live casino by Pragmatic Play.
That makes a lot of sense, seeing as how it is still considered a specialized form of gambling gaming. The user interface, menus, and betting data screens are all presented in English by default, but this can be altered. The choice to do so can be found in the settings section, which can be accessed from the top right of the screen. Bulgarian, Chinese, and Danish are some of the available languages.
How to Play Mega Wheel Live Casino Game
You might be the player that has tried your hand at other live casino games that draw their inspiration from game shows. If this is so, then you'll feel right at home with Mega Wheel by Pragmatic Play. Even if you're just an amateur player, you can easily find your way around this live casino.
To begin, you need to pick a casino and make your first deposit. Afterward, using the first deposit, you can bet with any of the betting options available. You only have a few seconds left for your first few spins.
However, if you fail to complete a round, it's not the end of the world. You'll have another opportunity in a matter of seconds, as the game moves at a breakneck speed. Your minimum bet is $0.1 and the maximum is $1,000.
To win at Mega Wheel, you must correctly predict the winning number for where the wheel lands. There are eight possibilities instead of the usual six. Each digit represents the potential payout if you are successful. If the amount is large, then the earnings will be as well. Larger numbers are also risky because they are less common on the roulette roll.
In our opinion, however, some of these wagers are safer than others. If you're betting money, consider that the odds of falling on an 8 are the same as those of arriving on a 10, but the payouts are different. The same holds true for 15/40 and 30/40, with the latter being the superior option. The salary structure is explained in greater depth below.
Live Mega Wheel Payouts
Fortunately, you don't need to make an extra bet in order to gain access to multipliers or free spins. That's right, you could win 500 times your bet every time the wheel stops.
With the exception of multipliers, all numerals payout at their nominal worth. According to this system, the value of 1 is 1, 2 is 2, and so on. When wagering on the number 40, the highest possible payout after a round is 40:1.
What is the Best Mega Wheel Betting Strategy?
As it is a standard wheel live casino, there are betting strategies to make the best when playing Live Mega Wheel. Here are some strategies to employ when playing:
The best Mega Wheel strategy you will likely ever get is that Bets of 8, 15, and 30 should be avoided. It's best to gamble on the 10, 20, or 40.
Larger quantities can be increased by larger sums. This means that unlike any other live game involving a money wheel, taking some calculated risks can pay off. However, you want to be careful when risking. Remember you should always play responsibly.
Hedging is a frequent tactic for those who play Mega Wheel on a frequent basis. One simple strategy for long-term success is to consistently make three or four of the "superior" bets.
When you're placing your bet in your Live Mega Wheel casinos, always remember to guard your emotions. Regular casinos can be a money sink if you're unable to track your bankroll. Don't be over excited over a win or depressed over a poss. Remember, as said earlier, in few seconds, you'll get your chance to play again.
Conclusion
We think Mega Wheel has great amusement value and attracts many different types of players and new customers. This means it has great conversion potential to overthrow products from some of the big blocks like Evolution Gaming.
Pragmatic Play is a multi-product provider that presently releases up to five new slot titles each month. Pragmatic Play goes further to provide live gambling and bingo games through a unified API.
Feel free and enjoy their entertainment value in form of live casino games on desktop and mobile devices. They are in line with the Malta Gaming Authority and other rules guiding online casinos. Still, don't forget to play responsibly at any live casinos of your choice. We hope with this Mega Wheel review, you opt-in and take your shot at this game show.
Rank
Casino
Bonus
Payout %
Visit
1
100%% up to €500
%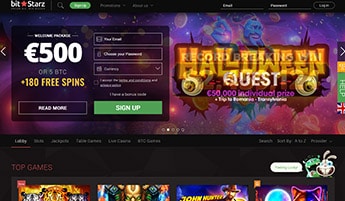 BitStarz - 100% up to €500 or 5 BTC
In conclusion, BitStarz is a pleasant surprise. It certainly isn't just another mundane online and live dealer casino that's shouting "Bitcoin games here!" from the rooftops. The brand is genuine and flaunts a solid game collection highlighted by a massive quantity of slots and a polished live dealer lobby. Its pros continue with free withdrawals, creative promos and bonuses, cash prizes and flawless mobile functionality. Proven fairness and notable accreditation make BitStarz a smart choice indeed.