Monopoly Big Baller
Fans of Mega Ball and Monopoly Dream Catcher games have long awaited a cross between these live casino games. If you're one of such fans, then good news has arrived on your doorstep. Monopoly Big Baller live is the perfect cross between these two epic games.
Monopoly Big Baller is a bingo style game from Evolution Gaming, featuring an attractive riverboat theme. The Bingo game machine featured in the game is the major mechanic in the game. It allows you to win big on Bingo cards, skyrocket your earnings, and cash out massive payouts.
With further ado, let's begin exploring the ins and outs of this game and what it has for you. Read on to the end for comprehensive information on Monopoly Big Baller live.
What is Monopoly Big Baller?
If you've been following the release of new live casino games, you're undoubtedly aware of the eventful year Evolution has had. This vendor's foyer has lately seen the arrival of multiple flagship products. Evolution has increased the number of its groundbreaking roulette variants from Gold Bar Roulette to XXXTreme Lightning Roulette.
One of the breakthroughs the company has had is with its release of the highly anticipated follow-up to 2021's Monopoly Live. However, Monopoly Big Baller takes an entirely new shape from the old Wheel of Fortune. Fans have claimed it is an entirely new game going full on monopoly fun.
If you're looking for a live operator bingo game with lots of bells and whistles, look no further than Monopoly Big Baller. While the game differs from Monopoly Live, it still features Mr. Monopoly. The classroom transforms into a roaring twenties-era boat, complete with a digital Monopoly board for extra points.
Players who have experience with Monopoly Live will recognize some of the game features. In any case, Monopoly Big Baller is an adventure unlike any other, and one that you must attempt for yourself to fully appreciate.
How the Monopoly Board Works
When people think of exciting live casino shows, they think of Evolution Gaming. Their game shows usually feature huge money wheels and other eye-catching visuals. However, it appears that there are already enough of them.
Hence, the new Monopoly Live game is instead driven in a manner analogous to bingo. It appears the action of the successor is more akin to Mega Ball than the original Monopoly.
Naturally, Evolution highlighted a few key distinctions when they announced their 2022 games. You would need to purchase tokens just like you would for a game of player-versus-casino bingo. However, you can only purchase a maximum of four bingo cards each round.
The bingo cards feature random numerical patterns of 5 by 5. The narrator will spin a big ball drum containing numbered spheres. During the game, success is defined as having your card's digits match those drawn from the barrel. Winning lines are completed lines with a string of five consecutive digits that matches the ones on your card. The reward increases with the number of lines used on a single card.
How to Play Monopoly Big Baller Step-by-Step
You would find playing Monopoly Big Baller easier than you would any other live casino game. Follow the process below to play Monopoly Big Baller:
Purchase Your Cards and Place Bets
A total of one to four cards can be purchased in a single round. Each of them will produce a 5×5 matrix of digits between 1 and 60 at random. There is a name for each of these compartments called a "cell." A cell can either be in a numerical value or have some kind of unique mechanism.
You get to choose between two different mechanisms based on the card as shown below:
Free Space Card
Free space cards always feature an open area in the center cell. Any lines containing these free spaces will be finished off once you hit the remaining four numbers.
LINE chance Card
There is always a set multiplier in the center cell of a chance card. It's just a regular number, and it works like any other. However, your payout will be boosted by 10 or 20 for any successful lines that include the multiplier number.
Keep in mind that any card can switch between a chance card and a free space card anytime during the wagering round. For an additional shot at the bonus round, you can buy the 3 or 5 Extra Roll card. This unique bonus card can have either 3 or 4 spaces. If these amounts are reached, the Monopoly bonus game begins.
Use the Random Multiplier and Random Free Spaces
Each card has one unique cell at the onset of the game, though there are more of them. After the wagering round concludes, Mr. Monopoly will release a lever, which could cause extra Free Spaces and Multipliers to appear on your cards. Your odds of making use of this function improve as your card stock grows.
In Monopoly Big Baller, the boosters can be any one of three types:
Standard Multipliers: – When used in conjunction with a successful pay line, a guaranteed multiplier enhance the payout by a factor of 10x or 20x.
Line Multipliers: – Each line multiplier calls attention to a complete line of five numbers. Depending on how far along the line you get in a single round, your multiplier prizes can go as far as 50x.
Global Multipliers: -The complete playing card is affected by global multipliers. Your payouts using that card can be multiplied by a factor of 2 or 3.
The Draw
After the steps above, the ball drawing starts. In the Evolution studio's ball drum generator, 20 of the 60 spheres are randomly selected.
Every one of them has a number on it, anywhere from 1 to 60. A card is "daubed" naturally if the number on a drawn ball is the same as the number on one of your cards. In the bottom right area of the display, you can see all the numbers that have already been drawn.
In order to succeed, you must fill in at least one line on a given board. For each card, payouts vary based on the amount wagered. Be aware that you can wager a varied amount on each card.
Monopoly Big Baller Payouts
A winning line typically wins in a 2:1 in-game. Multipliers on the card can increase the value of these maximum payouts even further. Obviously, the payoff from Chance cards, free space cards, 3 rolls, and 5 rolls is higher. Keep in mind that the higher the payout, the lower the chances of winning.
Free Space card – 2-39:1 per line
Chance card2 – 199:1 per line
3 Rolls – Bonus game kicks off with 3 rolls
5 Rolls – Bonus game kicks off with 5 rolls
Make a mental note that the aforementioned data only applies to the base game. The payout method in the extra monopoly board round is far more nuanced and highly unpredictable. You can be lucky to get as high as 100,000x, which is the maximum reward in Monopoly Big Baller.
The RTP for Evolution Monopoly Big Baller is 96.10%, which is quite reasonable for a live game show. In fact, there are only a few live gambling games that can compete with this, most of which are bingo variants.
Best Strategies to Win More on Monopoly Big Baller
There are some strategies that may help you enjoy the game more, earn more cash, and win prizes. You don't need to understand complicated terms like community chest, jail space, four corner squares, etc. With basic monopoly moves, game equipment, and the playing pieces provided, you can get the best from your monopoly game with these tips:
Always Put Your Money on the Bonus Game
You don't want to be staring at the screen while everyone else is trying to get their hands on bonus rounds. A trimmed-down variation of Mega Ball is what you'd be playing otherwise. If you're going to wager, it's best to do so on bonus cards to collect multiplier prizes.
Stay in Control of Your Finances
The key to winning is prudent money management, as you have no influence over the outcome of the game once you've placed bets. A losing run could succeed complete lines or vice versa.
When you're on a winning line, it can be tempting to increase your wager because the odds of losing seem smaller. However, your total bet should be no more than 2-5% of your money on each round if you want to play Monopoly Big Baller conservatively.
Alternate the Order of the Cards You're Playing With
The Big Baller Chance strategy for Monopoly allows you to test out different card combos, such as three Free Space Cards and one Chance card. Remember that you are not obligated to wager on all four cards in each hand. See what works best for you as a player by trying out different approaches.
Conclusion
Evolution took the popular Monopoly Live franchise and applied its inventiveness to make something truly remarkable. At long last, a game of Bingo now feels like a main game.
Rank
Casino
Bonus
Payout %
Visit
1
100%% up to €500
%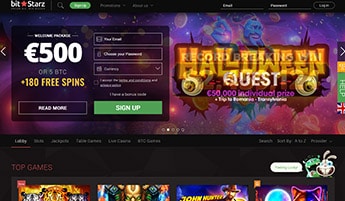 BitStarz - 100% up to €500 or 5 BTC
In conclusion, BitStarz is a pleasant surprise. It certainly isn't just another mundane online and live dealer casino that's shouting "Bitcoin games here!" from the rooftops. The brand is genuine and flaunts a solid game collection highlighted by a massive quantity of slots and a polished live dealer lobby. Its pros continue with free withdrawals, creative promos and bonuses, cash prizes and flawless mobile functionality. Proven fairness and notable accreditation make BitStarz a smart choice indeed.