Monopoly Live – Best Live Online Casino USA 🥇 Top 7 Live Dealer Sites (2023)
With the Monopoly Live Dealer version, Evolution Gaming proves over and over again that it well deserves the title of live gaming leader as well as an impressively wide distribution none of the competitors have so far been able to achieve. Rather than relying on mere facelifts, each of the developer's new products delivers true innovations.
You will have seen it in Live Lightning Roulette, a game equally unique in terms of visual appearance and mechanism, and Live Infinite Blackjack, a one-to-many game variant using Six Card Charlie rule and introducing two new optional side bets. The team has now taken what is probably the world's most popular board game and added popular Monopoly elements to the leading live money wheel game – Dream Catcher. Monopoly Live, created in partnership with Hasbro and first revealed at ICE 2019 in London, will doubtlessly prove to be a success as soon as it hits the market.
Monopoly live game rules and payouts
Before we talk about the special edition of Evolution's popular Dream Catcher, let's remind ourselves how the best-loved board game plays. Monopoly is a property-trading board game launched back in the 1930s. Players have to roll two dice to move around the board and get an opportunity to buy properties, build houses and hotels, and collect rent from their opponents. The ultimate goal is to drive others into bankruptcy; the last player who remains solvent wins. Money can also be earned and lost with the help of Chance and Community Chest cards and in several other ways. One can end up in jail and will only be allowed out once they meet specified requirements. The game was patented in 1935 by Charles Darrow, released by Parker Brothers, and in 1991 acquired by Hasbro.
Evolution's Monopoly Live combines live game action and augmented reality, offering players an opportunity to score massive multiplier wins. This is how it works: Live host spins the vertically mounted money wheel and players have to predict which segment it will stop it. The wheel incorporates numbered segments (1, 2, 5, 10) as well as those labeled CHANCE, 2 ROLLS and 4 ROLLS. CHANCE segments deliver instant wins and multipliers of up to x10, while the other two trigger a 3D Bonus game based on the adventures of Mr. Monopoly. You'll see the digitally created character, previously known as Rich Uncle Pennybags, sitting comfortably to the left of the wheel and live host. He'll be reading his newspapers and sipping coffee until one of the special segments is struck.
Also Read: The Best Shows in Las Vegas
Having placed a bet on the winning number, players will receive payouts of 1:1, 2:1, 5:1 and so on. Should the wheel stop at CHANCE, Mr. Monopoly will present them with a Chance card which shows either a random multiplier or a random cash reward. If it shows a multiplier, all bets remain in place and the host spins the wheel once again. The multiplier is then applied to the winnings of this second spin.
To participate in the Bonus game, the player has to place a wager on 2 ROLLS or 4 ROLLS, and if the wheel stops on either of these two segments, the Bonus game is launched and Mr. Monopoly stands up to take over the show. Qualifying players will accompany him into his augmented reality Monopoly world and watch him collect prizes and multipliers while walking around the 3D Monopoly board. The journey, determined by a pair of dice rolled by the live host, takes him past familiar board game elements such as GO, houses and hotels, Chance, Community Chest, Jail and Super Tax.
Multipliers attached to randomly placed houses and hotels increase in size the farther he gets. Just like in the original board game, rolling doubles awards an additional roll. What makes the experience highly immersive is the fact that one doesn't view the board from above as a Monopoly player would; you'll be positioned on the same level as Mr. Monopoly and feel like a live game figurine moving past buildings. Players who have chosen not to place either of the two bonus bets can still enjoy the Bonus game but won't be able to win any prizes.
If you're looking for other games and sites that pay good bonuses you can find the best online live casino bonus India here in our guide at livecasinoreports.com.
| | | | | |
| --- | --- | --- | --- | --- |
| No. on Wheel | RTP | Min. Bet | Max. Bet | Payout |
| 1 | 92.88% | €0.10 | €2,500 | 1:1 |
| 2 | 96.23% | €0.10 | €2,500 | 2:1 |
| 5 | 91.30% | €0.10 | €2,000 | 5:1 |
| 10 | 96.02% | €0.10 | €1,000 | 10:1 |
| 2 rolls | 93.90% | €0.10 | €500 | Up to €500,000 |
| 4 rolls | 93.76% | €0.10 | €500 | Up to €500,000 |
| Chance | N/A | €0.10 | N/A | Random cash prize, Multiplier |
User interface and gaming experience
We are all well familiar with the overall quality of Evolution Gaming products, and have a good idea of what to expect with Monopoly Live and Monopoly Big Baller. The developer uses advanced streaming technology, incorporates an intuitive game interface, and employs exceptionally well-trained dealers with personalities perfectly fitting the style of the game. Having launched Monopoly Live and Monopoly Big Baller, players will be able to communicate with these engaging ladies and gentlemen via the Live Chat box and use in-game options to adjust video and audio settings. The Monopoly board is currently available in English, German, and Italian.
The Winning strategy
Due to the absence of lucrative x20 and x40 segments present in the original Live Dream Catcher, the Bonus game is, in fact, your best bet. Considering that the wheel has 54 segments out of which 4 triggers the Bonus (three sections labeled 2 ROLLS and one 4 ROLLS), the frequency of Bonus outcome is 1 in 13.5. There's a possibility to win consecutive multipliers and, in theory, claim as much as €500,000. At the same time, one should make sure the available budget lasts long enough to profit from this lucrative opportunity. Players should thus place moderate wagers on ROLLS segments until the wheel delivers accordingly and grants access to high value wins. More conservative bettors may want to consider segments with the potential to pay 5:1 and 10:1. As they account for 20.3% of the wheel, one can expect multipliers of x5 or x10 to be applied to 1 in 5 outcomes.
Where to play monopoly live?
Monopoly Live has yet to enter online casinos and we expect the game to become available at multiple venues during the month of April. Mr Green, Leo Vegas and BitStarz should be among the first to treat their players to this unique experience. Leo Vegas has already announced that the launch will take place on 28 March in each of its markets except for Denmark and Sweden. Same as the other exquisite products developed by one-and-only Evolution Gaming, Monopoly Live will simultaneously become accessible via mobile devices and desktop computers.
Rank
Casino
Bonus
Payout %
Visit
%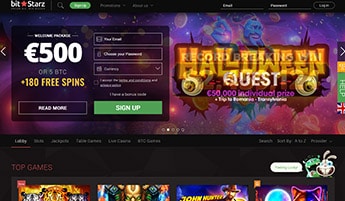 BitStarz - 100% up to €500 or 5 BTC
In conclusion, BitStarz is a pleasant surprise. It certainly isn't just another mundane online and live dealer casino that's shouting "Bitcoin games here!" from the rooftops. The brand is genuine and flaunts a solid game collection highlighted by a massive quantity of slots and a polished live dealer lobby. Its pros continue with free withdrawals, creative promos and bonuses, cash prizes and flawless mobile functionality. Proven fairness and notable accreditation make BitStarz a smart choice indeed.