Live Sette E Mezzo Playtech Review
Live Sette e Mezzo is a classic Italian card game that has been adapted for online play by Playtech. The game features realistic graphics and sound, making it feel like you're playing in an authentic Italian casino. With its easy-to-learn rules and fast pace of play, this high stakes game offers tons of excitement and the potential to win big.
In this review, we'll take a closer look at what makes Live Sette e Mezzo so special, as well as how to get started with the game. Live Sette e Mezzo is one of the most popular games offered by Playtech. Players have access to both real money tables and freeplay options which can help them learn the basics before risking their own cash on a bet.
There are also plenty of side bets available for those who want to add some extra spice to their gaming experience! So if you're looking for a thrilling way to enjoy an evening at home or while travelling, then Live Sette e Mezzo could be just what you need.
Overview Of The Game
Live sette e mezzo is an exciting and thrilling card game that has been a long-time favorite for people looking to test their skills. This classic Italian game combines luck, skill and strategy in equal measure and can provide hours of fun for players at all levels. It's no wonder then that Playtech have created their own version of live sette e mezzo which takes the traditional rules of the game and adds modern features like expert dealers, high production values and great strategy tips to give you a unique experience every time you play.
At its core, Live Sette e Mezzo is about getting closer to seven-and-a-half points than your dealer – using only two cards each round.
When playing this version from Playtech, you'll benefit from having access to some helpful advice on how best to approach the game with regards to house edge so that you can get off to a flying start against even experienced opponents.
Without any further ado let's take a look at the rules and gameplay of this popular online casino offering.
Rules And Gameplay
Live Sette e Mezzo is an exciting and challenging game of chance that can be enjoyed by players of all skill levels. It has a great house edge and card values that are easy to remember, making it even more appealing for both serious gamblers as well as those who want to try something new.
The rules and gameplay of the game are fairly straightforward: each player receives three cards from which they must make their best hand – either seven-and-a-half (seven plus one half) or lower. The highest score possible is seven-and-a-half, after which no further cards may be dealt.
Below are some key points about Live Sette e Mezzo's rules and gameplay:
Aces count as 1/2 point

All face cards count as 0 points

Cards 2 through 10 have their face value

Players must choose whether or not to draw another card based on their total current score

If the dealer obtains 7 ½, he takes all bets
Players will be pleased with the betting options available in Live Sette e Mezzo; there is something for everyone here, regardless of budget size. From small wagers to large ones, players can adjust their bet amounts according to their preferences.
As long as you play within your limits, this game will provide hours of entertainment at any level. With its simple rules and low house edge, Live Sette e Mezzo offers a unique gambling experience that is sure to keep players coming back for more.
When it comes time to place bets, these options ensure gamers can find a way to enjoy the game at whatever stakes suit them best.
Betting Options
Playing Live Sette e Mezzo Playtech is a truly unique and exciting experience. The game takes the traditional Italian card game to a whole new level with its progressive betting options, allowing players to bet more as they become confident in their skills. Card counting also plays an important role in this version of the classic game; now you can really outwit your opponents and come out on top!
The range of betting options available when playing Live Sette e Mezzo Playtech makes it incredibly easy for players to find the right stakes for them. You can choose between low, medium or high stake games, depending on how much money you want to risk. And if that isn't enough, there are additional side bets which give you even more chances to win big.
With so many different combinations of bets, Live Sette e Mezzo Playtech offers something for everyone – no matter what kind of gambler you are. This versatility ensures that every player has an opportunity to maximize their potential earnings while having fun at the same time! Transitioning into the subsequent section about 'side bets', there's plenty of room to grow with these extra features – who knows where you could be headed next?
Side Bets
Moving on from betting options, let's take a look at side bets.
Side bets can be an interesting way to add more excitement to the game of live sette e mezzo.
Players should note that side bets have higher house edges than regular bets, making them less advantageous in terms of profits over time.
Card counting is not allowed with these types of bets, so it isn't possible to gain an edge by using this strategy.
Getting started with live sette e mezzo doesn't require any special knowledge or skills beyond familiarizing yourself with the rules and strategies involved – however, understand that some strategies may not work as well when playing with side bets due to their high house edge.
Knowing when and how much you want to bet is key to success in this game!
Getting Started With Live Sette E Mezzo
Playing Live Sette e Mezzo is like taking a journey through an exciting old-world land, filled with adventure and excitement. To prepare yourself for the voyage ahead, you must first understand the basics of this classic Italian game. Here are five key points to remember when starting your quest:
Strategy – If you want to make it out alive, planning your strategy carefully can be the difference between winning or losing in Live Sette e Mezzo. Make sure to use bankroll management techniques and keep track of how much money you're willing to risk on each hand.

Rules – Just like any other casino game, understanding the rules of Live Sette e Mezzo is essential if you hope to survive your travels. Knowing which cards beat which will help ensure that every bet is a calculated one.

Payouts – Winning hands in Live Settee mezzo offer different payouts based on the strength of hand dealt; so always check what payout rate applies before placing a wager! The higher paying hands come with more risk but also bigger rewards.

Betting Limits – Before playing, make sure to familiarize yourself with the betting limits set by each table as they vary greatly from one operator to another. This way, you'll know exactly what kind of stakes are suitable for your budget and skill level.

Table Etiquette – As with all live dealer games, there's no room for bad manners at a Live Sette e Mezzo table. Remember to act courteously towards fellow players and follow instructions given by the dealer without hesitation; this will ensure smooth gameplay throughout your session!
No matter where your travels take you within this exotic world, following these tips will guarantee that you enjoy yourself while having increased chances of success along the way!
Frequently Asked Questions
Conclusion
Live Sette e Mezzo is an exciting game of chance that offers players the opportunity to make some serious money. It's a great choice for anyone looking for a bit of thrill and adventure, as well as a way to test their luck.
The house edge in this game is quite low, so it can be quite lucrative if you play your cards right. On top of that, there are also bonuses and rewards available when playing Live Sette e Mezzo from Playtech.
The best part about this game is that you can play it anytime, anywhere – even on mobile devices! That means I can get my fill of live sette e mezzo no matter where I am or what I'm doing.
Additionally, because of its demo mode feature, I don't have to risk any real money at first; I can practice until I feel comfortable with the rules and strategies before betting big.
Overall, Live Sette e Mezzo from Playtech is an incredibly entertaining and potentially profitable experience. Even if Lady Luck isn't on my side every time, the excitement of wagering and the possibility of winning keeps me coming back again and again.
Rank
Casino
Bonus
Payout %
Visit
1
100%% up to €500
%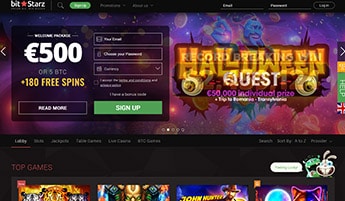 BitStarz - 100% up to €500 or 5 BTC
In conclusion, BitStarz is a pleasant surprise. It certainly isn't just another mundane online and live dealer casino that's shouting "Bitcoin games here!" from the rooftops. The brand is genuine and flaunts a solid game collection highlighted by a massive quantity of slots and a polished live dealer lobby. Its pros continue with free withdrawals, creative promos and bonuses, cash prizes and flawless mobile functionality. Proven fairness and notable accreditation make BitStarz a smart choice indeed.