Live Spin a Win Playtech
Playtech's Live Spin a Win game is one of the most successful projects of the company. The Live Spin a Win game was launched in 2018. The company settled on a second version of the big wheel that same year.
The Playtech Live Spin a Win is the company's first shot at the lucky wheels game. In this game, wheel stopping plays a large role as prizes are determined based on where the wheel stops. This doesn't mean it is comparable with any average wheel game – it has different side bets feature that tells it apart.
In this post, we'll give a comprehensive breakdown to help you play Spin a Win. There are steps for you from the betting round to the final payout structure. You'll also see the different online casinos to play this game in among other vital information.
Introduction To Playtech Live Spin A Win
Playtech's Spin A Win is a wheel of fortune based live gambling game. The fortune game is both aesthetically appealing and fun to play. It's one of the most talked-about of all the live gambling games currently offered by numerous casinos.
There's just one wheel of fortune and a very likable game host at the center of this game. Just sit back, place bets, and enjoy the performance as a participant! You'll feel like you're competing in a game show, with the chance to earn hundreds of times your initial wager. The game's generous bonus features allow for this.
How does Spin A Win Live Casino Work?
The goal of playing live Spin a Win is to turn the lucky wheels. You should ensure the wheel lands on the colors and bonuses that you have staked money on. Across the rng wheel, the prevalence of each color is different, and the player's wagers reflect this.
As the ratio increases, that color appears less frequently on the circle, and vice versa. For each turn, your rewards are determined by the number of times your wager was put on. It's also determined by the color that the wheel stops on.
Who are the Founders of the Live Spin a Win?
Playtech was founded in Estonia in 1999 and quickly became known for its extensive online gambling network. The company is one of the biggest competitors of the popular Evolution Gaming. What started as a software company ultimately encroached upon the iGaming and online casino industries.
Playtech is a major software provider for casinos and other gambling venues, with offerings like poker, bingo, lotteries, and even live dealers. Playtech manages to keep all of its gambling divisions in check, allowing it to compete with the best in the business. This is in contrast to the majority of vendors, which tend to specialize in a single market.
The Playtech brand has a massive inventory at this time in their live casino gambling inventory. Roulette, baccarat, poker, hi-lo, sic bo, blackjack, and a re-released Spin a Win wheel from the spring of 2019 are all available.
Today's Playtech is an industry behemoth, offering everything from slot machines to live casino games. It even offers government-sponsored lotto solutions for local markets to live-streaming tables and Jackpot games.
Over 140 Playtech live casino games are currently accessible to operators and users via SoftSwiss. This number is expected to grow in the near future. Examples of such games are Buffalo Blitz, Colossal Ape, Great Blue, Dream Catcher, and the acclaimed Age of the Gods series.
The Playtech platform will provide operators with a plethora of marketing initiatives and rewards to spread the word about the games. The inclusion of free spin features as a standard component of the game supplier bundle opens up new avenues for advertising.
Having Playtech games available at your online casino sets a high bar for both your business partners and your customers. This content supplier is a safe bet for any online casino publisher. It is compatible with sites operating under the jurisdictions of both Curacao and Malta.
Live Spin a Win Multipliers, Side Bets, and Other Features
Playtech Live Spin a Win operates with a combination of multipliers and side bets. You need to hit a winning number to win Live Spin. Here are some of the terminologies involved in the casino game:
Side Bets
Players have the opportunity to make different types of side bets within the game. They may choose to place main bets, an odds side bet, an even side bet, three side bets, or a combination bet. They can even use a multiplier side bet.
Main Bets: – this could be your initial bet on the wheel
Odd side bet: – An odd bet generates odd numbers as 1 or 5 result
Even side bets: – An even side bet will include 2, 10, 20 or 40
Three side bets: – This type of bet comes from a combination of the different sides.
Multiplier Bets
If a Multiplier is rolled, players who bet either odd numbers or oven will forfeit their wagers. The multiplier bets could either be two multipliers or a 7X multipliers hit. There are also multiple multipliers depending on how you utilize them.
Other Features
The gameplay dictates the following actions and controls:
Chips: – These are your chips; select them to set your bet.
Spin: – To "rotate," to "start playing," etc.
Speed: – Decide how fast the wheel will revolve (it won't affect the result)
Rebet: – This means to make the same bets again.
Clear: – Removes all current choices
X2: – A reiteration of the previous selections at double the original betting options.
Auto play: – The auto play selects the number of repetitions for automated re-betting.
Playtech Live Casino Game | How to Play Playtech Live Spin
Here's how to play the Playtech Live Spin a Win:
Playtech Spin a Win uses a physical roulette ball and a teller in the room. At a time, users voiced concerns that the software was not in rhythm with the RNG wheel. It was, afterward, removed from the initial distribution and replaced.
The payouts are determined by the frequency with which the winning numbers appear on the wheel. For example, the greatest winning number (40) has a payout rate of 40:1, as it only appears once on the wheel. On the other hand, the number 1 appears in 23 distinct places and pays even money.
Betting on Even or Random numbers yields a return of x1.25 to the participant. It yields an even more lucrative return of x0.75 on the wager. Sometimes, the wheel may stop on a multiplier. In such scenarios, the wagers will carry over to the next turn and the payout percentage will be multiplied by the corresponding amount.
For example, you place a bet on the number 2 and it comes up when the wheel stops on a 7x multiplier. You'll get paid out at a rate of 14:1. (7 x 2 = 14; the payment rate for 2 is 2:1). If you insist on betting on particular numbers, however, the payouts for x2 and x7 increases are x25 and x25, respectively.
Strategies to Employ and Play Spin a Win
There is no foolproof strategy to win at Spin a Win. However, there are some things you can do to improve your odds.
First, make use of any Spin a Win discount to which you are eligible by checking the current deals. You can apply these discounts in your next spin or the next round of play. This will increase your tendency to win.
Second, even with a basic game like Spin a Win, you need to know how everything from a spin to an odd number works. After all, losing money rapidly is a clear sign that you're betting on uncertain outcomes or taking unnecessary risks. The more you learn, the less money you'll waste on blunders.
Finally, stay with the wagers that have the best win odds. In this instance, the odd number side bet has the best chance. Though, wagering on the multiplier and the single and double digits of the spin wheel also yields respectable returns.
Play Live Spin a Win Here
You would have to play Live Spin a Win at an online casino. One of the most popular options is Livecasinoreports. This live dealer has the perfect features to turn your bet experience into a dream come true.
Another live dealer known for their epic live games and hi-lo experience is Poker Stars. The live host also has very terrific features for a perfect experience.
Finally, you can also try Bet365, a platform popular for virtual sports. It doesn't mean you won't find Playtech Spin a Win interesting on this live dealer. There are many more plugs for Live Spin a Win and a simple search will introduce them all.
Other Games Similar to Playtech Live Spin A Win Online
There are many wheel of fortune similar games to Live Spin a Win. The most recognizable one is the Monopoly Live Dream Catcher. This easy game is very close to Live Spin a Win, especially in video performance and win offers.
Also, there is the simple unique Money Drop Live Game. If you play live casino games, you will find its game type unmatchable. Instead of having to put in your money, you'll be given a lump sum to see how much you can keep after a round.
Conclusion
Indeed, Evolution Gaming's wheel may be the perfect opponent to Playtech's Live Spin a Win. Still, it is missing two features found in Dream Catcher: an Auto Play button and a Wager All button. Playtech's Spin a Win has all these features, making it a fantastic substitute.
Rank
Casino
Bonus
Payout %
Visit
1
100%% up to €500
%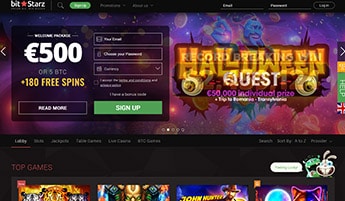 BitStarz - 100% up to €500 or 5 BTC
In conclusion, BitStarz is a pleasant surprise. It certainly isn't just another mundane online and live dealer casino that's shouting "Bitcoin games here!" from the rooftops. The brand is genuine and flaunts a solid game collection highlighted by a massive quantity of slots and a polished live dealer lobby. Its pros continue with free withdrawals, creative promos and bonuses, cash prizes and flawless mobile functionality. Proven fairness and notable accreditation make BitStarz a smart choice indeed.