Live Suomalainen Ruletti Evolution
We are all familiar with the concept of playing at a roulette wheel. How about we tell you, then, that it's possible to find a roulette wheel tailored just for you? This is exactly what Evolution Gaming did when they considered the people of Finland.
Evolution already provides a substantial variety of different kinds of live roulette games. However, this one is tailored particularly for the Finns. The entire event is broadcast from Evolution's facility in Malta. Nevertheless, Suomalainen Ruletti Live allows Finnish players to finally feel "at home" at the roulette wheel.
Here, you choose to place wagers ranging from one euro to five thousand euros per round. Watch as you earn as much as half a million euros. Since there are no additional features or side wagers available, this is a straightforward version of European Roulette tailored specifically for participants in Finland. Read on to learn more before you visit this epic platform that went out of everything we call usual.
Suomalainen Ruletti: Our Review, How and Where to Play

If you're looking for a live roulette game, look no further than Suomalainen Ruletti Evolution. With a $1 minimum bet and a $1,000 maximum, the RTP is 97.30%. Evolution Live Roulette can be played in Finnish on both a computer and a mobile device.
Suomalainen Ruletti was launched when the Evolution company considered an online betting option comfortable for Finns. With this roulette, you get to experience the thrills of a real Finnish casino without ever leaving your house. This alone makes it a top option for Finnish speakers looking to play online roulette.
Native tables are increasingly featured as part of the Live Dealer gaming offering. They serve as a means of appealing to a more niche audience. However, they lack the flexibility and accessibility that players might hope for. The "popular" languages spoken at natural speaker-hosted groups tend to be French, German, and the Scandinavian languages.
Typical of Evolution, they've gone the additional mile and added the Suomalainen Ruletti table to their local tables collection. Evolution can find a local speaker for any language in addition to the already live Norsk, Danish, Svensk, Venezia, and London tables. The Suomi Ruletti studio itself "overlooks" Helsinki. This is just one example of how the platform can be modified to resemble the casinos, landmarks, or landscape of any nation.
You can rest assured that you're playing the same beloved Evolution roulette you always have. There are no new features or plot twists in the Finnish adaptation. All extra features and alterations focus on the environment and the language used by the actual dealer. All the fundamental aspects and principles are the same.
How Live Suomalainen Ruletti Works
You can place wagers between €/£1 and £/€5,000 per round in Suomalainen Ruletti, which is the case with European roulette in general. The game features a single zero, as is the case with European roulette. You have the option of using the Racetrack platform to place your wagers, or you can use the simulated table to do so if you prefer.
For each round, there is a predetermined amount of time during which wagers must be placed. The live teller will make an announcement when there is no longer any time for bets to be placed. After that, the teller will turn the roulette wheel. You are to check the outcome which will indicate whether you win or lose that particular round.
We are confident that players from Finland will value the opportunity to participate in a live roulette game adapted specifically for them, and in this respect, there is no other competition. You will have a fantastic time playing live roulette with a fluent speaker of the Finnish language as your server.
The table is available every day from 11:00 to 03:00 Central European Time (CET). It is broadcast live from the live station that Evolution maintains in Malta. The background features an image of Helsinki, the capital of Finland
Evolution provides comparable live roulette games for players of other nationalities as well. We have a good feeling that they will continue to extend their offerings until the majority of the nations in the world are covered.
Live Suomalainen Ruletti Online Features
As earlier said, this game can be likened to the other gaming options from Evolution. This doesn't mean there aren't some characteristics that make it stand out. Here are some of the special features of Suoma Ruletti:
Virtual Table
The virtual table may indeed be found in other games but the Suoma table has a different touch to it. On this table, the dealer makes all the gaming arrangements for the players to follow up with.
Language
This style of the roulette wheel was designed primarily for Finnish roulette gaming. It lacks unique features like bonuses and side wagers. The game simply stuck with the standard layout of 36 holes and a single ball.
Live Chat Box
The ability to chat with other Finnish speakers in real-time during a game of roulette is a fun social addition to the game. The dealers will only make statements in Finnish, so you'll feel perfectly at home. You can access the options menu and the messaging function by clicking the corresponding buttons in the top right area of the screen.
How to Play Evolution Gaming Live Suomalainen Ruletti Online
Table boundaries in Suomalainen Ruletti, a single-zero variant of Roulette, can be anywhere from £1 to £5,000. Bets are put on the lower table." The dealer uses a real table inside the studio to write off the winning combinations as they appear on the screen.
To the right, the button that allows you to make customizable edits can be found. Here, you can decide to switch to a Racetrack platform arrangement if you prefer so. Also above, you would find the data from earlier games covered. There's also a tab that will take you straight to the casino home foyer.
You can apply adjustments to the bet numbers you desire to wager by clicking on the virtual chips. Then, select your bets from the wagering chart by clicking on it. The stake will be paid as soon as the wagering time ends, so be sure to confirm the claim.
Players can now watch as the previous round bets have been resolved. The next round's betting window will appear and the remaining time for wagering will be presented.
Finally, the croupier is available for live conversation in the live chat option over on the left. Near the top of the screen, players will find a "Live Support" button that will connect them with casino staff.
Other Evolution Gaming Roulette Wheels to Try Out
Evolution Gaming has a variety of wheels for you and Suoma is only a chunk of them. However, if you have enjoyed this game, there's a high tendency that you will, the other variants. Below are variations of Evolution Gaming Roulette wheels for you to play and win a more massive bonus:
Xxxtreme Lightning Roulette
As a sequel to Evolution Gaming's widely-appreciated roulette offering, Xxxtreme Lightning Roulette adds two exciting and profit-generating twists. Normally, each round grants you up to five multiplied numbers. You'll also get bonus features that can help you can increase those numbers by as much as 2,000.
Lightning Roulette
Lightning Roulette is another product with more massive payouts. Between 1 and 5 Lightning Numbers are awarded per round in Lightning Roulette. This was the initial development of the normal roulette idea by, of course, Evolution Gaming.
Straight-up bids on these payouts are between 50x and 500x the wager. On the contrary, wagers on normal digits return 30x the wager.
Gold Bar Roulette
The most current Evolution Gaming roulette invention is called Gold Bar Roulette. Here, each round offers the chance to win as many as 20 gold bars on straight-up wagers. You can use these gold bars as 88x boosters by placing bets on heads-up to increase your rewards. You can potentially earn even more gold bars.
Verdict on Live Suomalainen Roulette Wheel
The founders of the Suoma wheel have never ceased to keep surprising their audience. It just seems like every day, they have the next big thing waiting for you!
In this Live roulette, Evolution did not only create a platform that is simple to use. They discovered an additional method to accommodate all of the requirements of the contemporary market. They also used it to ensure that their Live Tables are accessible to participants in every region of the world.
They are evidently not the only developer that offers native tables. However, they are one of the few that have such a comprehensive (and configurable) offer. Plus the fact that they were able to maintain quality only shows how good it can get.
If you are interested in playing Suomi live roulette online, the best casinos to search for are those that are operated by Evolution. As far as we are aware, there is no other developer that presently offers online roulette platforms for Finland. You can enjoy your game as you wish but remember to always play responsibly.
Rank
Casino
Bonus
Payout %
Visit
1
100%% up to €500
%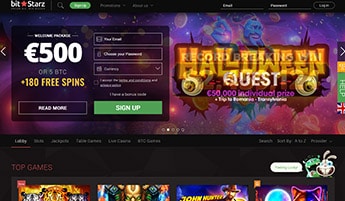 BitStarz - 100% up to €500 or 5 BTC
In conclusion, BitStarz is a pleasant surprise. It certainly isn't just another mundane online and live dealer casino that's shouting "Bitcoin games here!" from the rooftops. The brand is genuine and flaunts a solid game collection highlighted by a massive quantity of slots and a polished live dealer lobby. Its pros continue with free withdrawals, creative promos and bonuses, cash prizes and flawless mobile functionality. Proven fairness and notable accreditation make BitStarz a smart choice indeed.