Most of us have slim chances of winning a multi-million-pound jackpot. But it does happen, sometimes with bells ringing; big, jackpot-filled, church tower-sized clangers of joy.
Here's proof that dreams do come true. Three lucky players won after spinning the wheel. They confronted the one-armed bandit, cleaned him out, and dispatched him. They drank every last drop of juice from the fruit machine, living the gambler's fantasy.
Bring a stool and boatloads of coins, and join us and listen as we tell you the tale of these people—try not to be jealous. Here are the top three most famous slot machine winners of all time.
#1. Mega Moolah
According to Guinness World Records, let's start with the 'largest jackpot payout in an online slot machine game." A British soldier, Jon Heywood, became an instant multi-millionaire in 2015 after a 25p bet netted him a £13.2 million fortune.
The 26-year-old from Cheshire was playing Mega Moolah, an online slot machine. He had put down £30 and was betting 25p. He won the progressive jackpot of £13,213,838.68 in just seven minutes.
Microgaming's Mega Moolah is a well-known online slot. The game was first released in November 2006 and is one of the oldest online progressive jackpot games.
This popular online slot is available in four different variations at Casino.com. The traditional slot machine has a jungle-themed look, complete with all of the sounds and the faint roar of a lion, five different reels with 25 paylines.
Absolootly Mad, Atlantean Treasures, Fortunium Gold, and Juicy Joker are some of the other Mega Moolah progressive jackpot games. The themes of the Mega Moolah games vary, but they all contribute to the same massive, ever-increasing progressive jackpot.
Every online casino offering Mega Moolah games contributes to the jackpot pool.
#2. Megabucks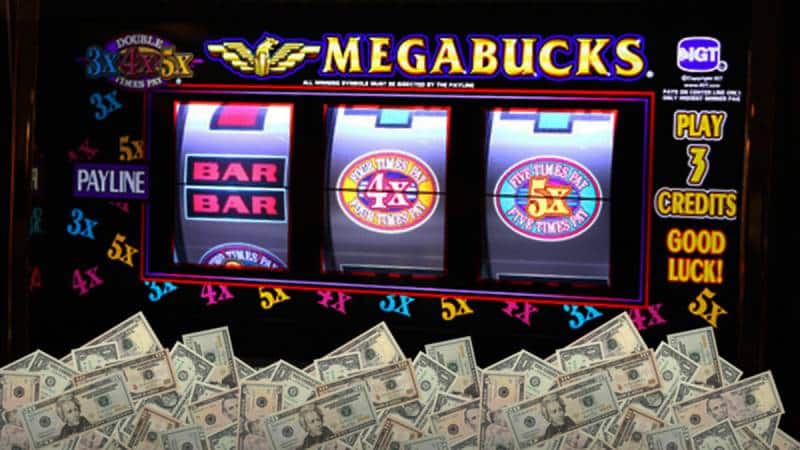 Meanwhile, back on Earth, Megabucks is the most popular game. Megabucks is a linked online slot from International Game Technology, a renowned casino game developer (IGT). It was one of the first slots to combine revenue from multiple machines to generate a massive jackpot.
Megabucks has paid millions to a slew of extremely lucky players over the years. But it was none other than a software engineer from LA who is 25 years old who would have a memorable weekend in Las Vegas.
On March 21, 2003, our unnamed hero was in Sin City visiting friends and family and watching the annual college basketball March Madness tournament. The Excalibur Hotel was where he was staying. He bet $100 on the Megabucks machine on his uncle's advice, who said the jackpot was "ready to blow." He was $39,713,982.25 richer seconds later.
In Nevada, there are over 700 Megabucks slot machines. If the grand prize is a whopping $10,000,000, what happens in Vegas might end up following you home if you're lucky.
#3. Megabucks II: Return of the Jackpot
We'll be staying in Las Vegas until our third jackpot winner arrives. Megabucks is the slot machine of choice once more. This time, the amount won is not as important, but the winner's luck.
Meet Elmer Sherwin, a Las Vegas native who struck gold twice. The Mirage Hotel Casino debuted on the Las Vegas Strip in 1989, and Sherwin, a retired resident, decided to come to see what the new casino on the block had to offer.
The 76-year-old received $20 in coins from his ex-wife after spending $80 of his money on the Megabucks slots. He quickly won the $4.6 million jackpot, and it was the largest slots jackpot in Las Vegas history at the time.
Now, hop into your time machine and back to September 16, 2005. Sherwin is still living the Las Vegas Life at an astounding 92 years old, playing at off-strip casinos and enjoying the free drinks and buffet.
He spins once at the familiar Megabucks machine. He triumphs once more. Sherwin takes home $21.1 million this time. Sherwin donated most of the proceeds to his family and charitable organizations. Sherwin promised to go for the triple after his second victory. He died in 2007 at the age of 93. One of the luckiest men to ever walk the streets of Las Vegas pitched a solid inning.
Rank
Casino
Bonus
Payout %
Visit
%
Tuah is an experienced writer and casino enthusiast with 12 years of industry knowledge. With a degree in Journalism, he delivers objective and comprehensive casino reviews, covering game variety, user experience, security, and customer support. From slots to blackjack, roulette to poker, Tuah's expertise guides both beginners and experienced players in making informed decisions. Expect engaging articles providing valuable insights for an enhanced online gambling experience.