Are you nearing the point in your life when you can legally do everything you've always wanted to do? Your 21st birthday officially marks the beginning of adulthood and true independence.
Celebrate your newfound freedom by throwing the casino party of your dreams. It will be the talk of the town for months!
Casino Theme Party Decorations
A casino-themed party necessitates casino-themed party decorations. To try to turn your party area into a casino, here are a few décor ideas that include gambling and Vegas ideas.
Fake Money
Poker is all about having fun while winning money! Experiment with this idea by purchasing fake money (or using Monopoly money) and placing it on different tables at your party!
Add Another Theme
You are not required to decorate with a traditional casino theme. Because each fabulous Las Vegas casino has a unique appearance, try decorating with an Egyptian theme like the Luxor or an Italian theme like the Venetian. You can also select a tropical or 1950s theme inspired by the classic Viva Las Vegas film. If you're a fan of Daniel Craig's first Bond film, Casino Royale, you could go the extra mile and do a spy, James Bond theme.
Colour Scheme
When decorating your casino theme party, keep in mind the colour scheme. The typical poker colours are red, black, and white. Look for these colours when decorating for your party and purchasing things like balloons, streamers, ribbons, etc. You could hang red and black streamers up for an easy pop of colour!
Lighting
Casinos are typically dimly lit, with gambling machines providing most of the illumination. Make sure your party area is also dimly lit, and hang some Christmas lights from the ceiling to create the illusion of a casino. To add to the casino theme, you can turn the lights in the shape of dice.
Playing Cards
Check with your local party supply store to see if they sell large cards or other card game supplies to hang around the room. If not, you can make giant versions of cards like hearts, spades, and so on. You can also attach them to streamers and hang the cards from the ceiling!
Poker Chips
See if your local party supply store sells large cards or other card game supplies to hang around the room. If not, you can make giant versions of cards such as hearts, spades, and so on. You can also tie them to streamers and suspend them from the ceiling!
Gambling Game Signs
Display signs around the room that say things like "blackjack," "roulette," "poker," and so on. You can make these out of construction paper, or poster board*or buy them online.
Green Felt Table Décor
If you don't have poker tables, you can create the illusion of a poker table by purchasing a green felt tablecloth* to drape over the tables at your party. As people eat and play games throughout the night, these are also excellent protective covers for your furniture surfaces.
Photo Opportunities
Decorate your entrance with a photo booth or a casino-themed archway. Your guests will appreciate having photos of their experiences at your casino. Photo booths are popular at all parties, so keep this in mind the next time you plan an event to upcycle and save money.
Casino-Themed Party Favors
Favours are a great way to get guests excited because what better way to greet guests than with free stuff! If you're throwing a birthday party, you can give out favours and gifts for the birthday person so that everyone gets something special.
Lottery Tickets
As a casino theme party prize, give your guests lottery tickets to keep them in the gambling mood. This is an excellent way to continue your casino theme. They are usually available at your local gas station!
Dice Set
Give each of your guests a dice set* to take home and use to play their favourite casino games at their leisure. You can also order a personalized dice set holder to make the favours even more impressive.
Lucky Rabbit's Foot
What is gambling if not for a lucky charm? As your guests walk in the door, give them their lucky rabbit's foot* to bring them luck! Encourage them to get it to their next casino trip and to thank you if they win big.
Casino-Themed Party Favor Bags
Why not make your own themed party favour bags? They are visually appealing, and guests can reuse them for small gifs in the future.
Chocolate Playing Cards
These are a wonderful casino-themed treat. Give each guest a pack of chocolate cards in a festive favour bag. If you're feeling particularly inventive, you could even ice cookies with melted chocolate yourself. You could draw hearts, spades, diamonds, or clover shapes on the cookies!
Fuzzy Dice
A popular casino-themed item is a fuzzy dice, and they are ideal for hanging over guests' rearview mirrors or attaching to a keychain.
Themed Deck of Cards
Another great favour is playing cards. You can either buy several novelty decks to give to your guests, such as playing cards with Las Vegas images, or you can provide a personalized deck with your text on the back of the deck.
Casino Theme Party Food Ideas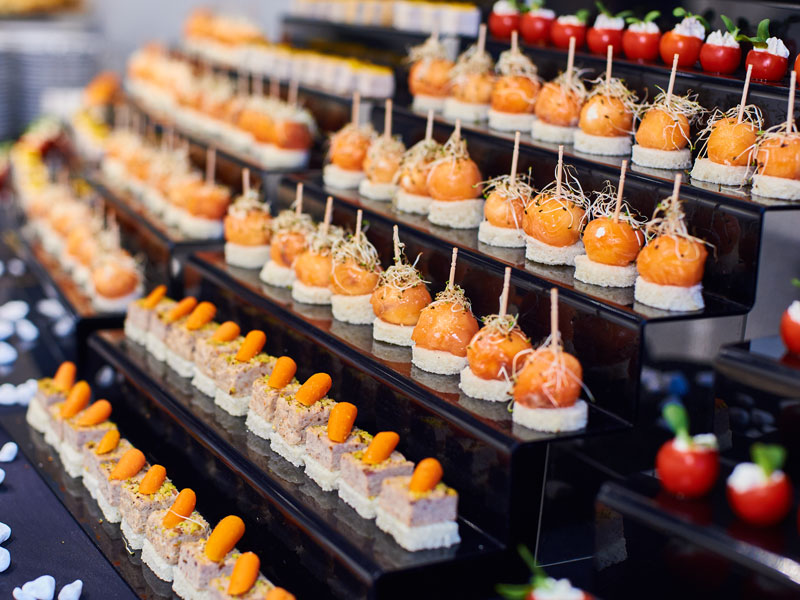 Check that your menu complements the rest of your party's theme. Here are a few casino-themed party menu ideas that ideally incorporate all the vibes.
Lollipops
Purchase lollipops shaped like dice. Wrap several together and hand out a casino-themed lollipop bouquet as a party favour, or arrange them around the table in place of flowers.
Cocktails
Serve traditional Vegas drinks such as dirty martinis and lemon drops. Create your own signature birthday cocktail that is only available at your casino. To make it more interesting, place a lemon or lime on the tip of the glass and perhaps even dip the glass in sugar.
Snacks
Provide snacks for your guests to eat while they gamble. Serve plenty of one-handed poker foods such as popcorn, chips, nuts, and candy. You could also include professional mints, like those found in fine dining establishments. Place these in large bowls around the room so your guests can always grab a handful.
Spicy
Spicy finger foods are ideal for these types of gatherings. Chips with salsa, bruschetta, and wings are all delicious spicy foods. Make sure to have plenty of small casino-themed plates and napkins for your guests, which can be found in the supplies section.
Formal Options
If your casino theme is more formal, serve hors d'oeuvres such as crab, artichoke dip, or meatballs. You can serve these in a chafing dish or on silver platters to your guests; it will make everyone feel wealthy enough to spend money at a casino.
Cake
A dice-shaped cake is ideal for a casino-themed dessert. You can make one with a cubed cake pan or buy one already made. To make one, freeze the cake white and add details with black candy circles or Oreos. You could also get creative and make a cake in the shape of a card suit. For example, you can cut a rectangular cake into a diamond shape or frost three small round cakes together to make a club. A themed cake topper will suffice if you don't have any cake-making skills. If you prefer to eat healthily, try one of our healthy desserts!
Cookies
Cut sugar cookies into poker chip or card suit shapes for a casino theme party, then frost and serve on a large platter.
Casino Theme Party Activities and Games
Here's a list of activities and ideas to help you transform your party space into an authentic casino. Make sure you have plenty of card decks so that all of your guests can play different games at the same time.
Darts
Darts are a competitive and enjoyable game at your casino theme party! This is a simple game that many people enjoy playing to pass the time. It's also a very social game, and your guests will be able to play it while mingling and socializing.
Drinking Games
First and foremost, a 21st birthday casino-theme party celebration is not complete without excessive drinking; your casino-theme party should be no exception. When your guests are intoxicated, the casino games become even more entertaining, and they will let loose simply by immersing themselves in the theme! To keep with the casino theme, you can play classic games like beer pong and Never Have I Ever and card-based drinking games like King's Cup.
Games of Chance
You don't have to limit your party to only casino games. Enlighten your guests with classic games like checkers, crazy eights, BINGO, UNO*, or even UNO attack, which I know from personal experience can be exhausting. There are also a plethora of themed bingo cards available.
Dice Games
Dice games can be a lot of fun in a casino setting. Some games require only dice, while others require special tables. This is an excellent time for everyone to roll their "good luck" dice.
Texas Hold'em
This game is ideal for a casino party because it is usually played against the casino rather than against other players. It is a poker variant in which each player is dealt two cards, and five cards are dealt face-up in the centre of the table.
Roulette
Roulette is a simple way to add authenticity to your casino party. It is also an excellent game for guests who are new to the gambling scene and are unfamiliar with popular casino games. You can even use the wheel in drinking games.
5-Card Stud
This is yet another poker variant in which each player is dealt two cards, one face up and one face down. Because poker is such a popular casino game, any variation will do for your casino party. There are many other variations to choose from besides the two listed here.
Video Games
Why not include virtual video games as one of the activities at a more relaxed party? This option is always popular at parties, and you can even provide guests with headsets. You can also play interactive video games with the Wii and the XBOX Kinect!
Baccarat
This idea is proposed solely because it is the game that James Bond plays in Casino Royale, and this is where the guests' true colours must emerge as heroes or villains of the game. It might be difficult to pull off, but if James Bond can play it to save the world, you can probably set it up if necessary.
Auction
An auction is a great way for your guests to spend the money they won during the evening. You can even get a gavel to make yourself feel important and powerful. Make it a white elephant auction with various amusing and intriguing items to bid on.
Casino Field Trip
Take your guests to a real-life casino! They will have access to multiple poker tables as well as a variety of game options. The endless options are endless: the fun never stops, from slots to blackjack!
Karaoke
Almost every casino has some kind of karaoke night. This is also a fun way to keep your guests entertained while playing casino games. Rent a karaoke machine and let your guests sing their hearts out. You can also hold a competition and award prizes for the best, cheesiest, and most hilarious performances. Karaoke is ideal for many types of parties, not just casino nights.
Make wagers on drinking alcohol instead of winning or losing money to raise the stakes in these games! The party will undoubtedly be a night to remember.
Casino Theme Party Supplies
Casino Theme Party Napkins
These casino-themed napkins are so entertaining that they almost don't require any other decoration. They fit the theme and are so outrageous that, after a few drinks, the entire party will be applauding these napkins for their brilliance.
Casino Theme Party Plates
As previously stated, when selecting your casino-themed decorations, keep the colours in mind. The same goes for your tableware; make sure your plates and silverware are red, black, or white and match your theme.
Casino Coasters
These coasters will liven up and protect any drink-related surfaces. The variety of colours adds a splash of personality while remaining true to the theme!
Classic Poker Table Cover
If you're serving food at your event, why not do it on poker tables? Or, at the very least, phony ones. They complement the theme of your party and will make your guests feel as if they are in a real casino.
Casino Theme Party Cups
Getting some disposable cups will make cleanup a breeze, and guests can write their names on the cups with a sharpie to avoid confusion. Themed cups enhance the decoration and fun of the event.
Casino Theme Party Invitations
Las Vegas Postcards
Las Vegas is one of the most populous gambling cities in the United States. Purchase several postcards depicting the vibrant Las Vegas skyline or specific Las Vegas hotels, and write your party information on the back.
Casino Theme Party Items
Send your guests personalized casino items such as playing cards, martini glasses, a pair of dice, or gambling chips for a one-of-a-kind invitation!
James Bond Casino Royale Invitation
Why not toast the iconic James Bond film, Casino Royale, and send your guests on a spy adventure? These invitations would encourage people to dress up or bring their best spy gear. During the party, see who can deliver the most solemn "the name's Bond. James Bond." You could go out with this invitation and send them secret identities or names/backgrounds they must adhere to during the event.
Classic Casino Night Invitation
There is no shame in sending a simple invitation that establishes the theme immediately. This one is unique and personalized for your special occasion.
Online Invitation
You may need to consider sending an online invitation to guests in this day and age. Everyone despises checking their emails unless they receive a special party invitation. Send a fun online invitation to your guests as a surprise!
Rank
Casino
Bonus
Payout %
Visit
%