Live 3 Card Poker is a fast-paced variant of one of the most popular card games. As each player receives only 3 cards, hand ranking slightly differs to that in 5-card poker games.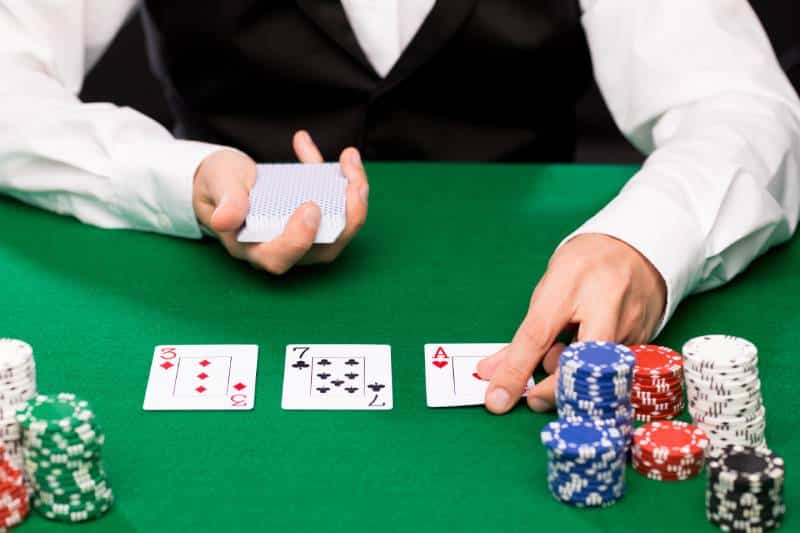 In Three Card Poker, there's no such thing as a Full house nor Four-of-a-kind, and Straight outranks Flash. Learning how to play this game well is not that difficult and the only critical decision is whether to play or to fold. Before discussing the optimal strategy, let's recap the basic rules of 3 Card Poker.
3 Card Poker Rules
Generally, 3 Card Poker features two separate games one can play at the same time – Ante/Play and Pair Plus. Both Ante and Pair Plus bets have to be placed before cards are dealt, and same goes for optional side bets. All Ante bets compete against the dealer who has to get at least a Queen High in order to qualify, while Pair Plus bet pays independently, based on your own hand alone.
Once all players have placed their bets, the dealer will deal 3 cards to each and you'll need to decide whether to play or fold. The dealer's hand is dealt face down and therefore not visible to anybody, which means the play/fold decision has to be made based solely on cards you've been dealt. Choosing to fold will cost you your Ante bet, and opting to play placing another placing another bet equal to the Ante. The 3 card poker dealer will then reveal their cards. In case they don't qualify, you'll be paid 1:1 on the Ante bet and your Play bet will push. If the dealer does qualify, the two hands will be compared and you'll either score higher and get paid 1:1 on both Ante and Play bets, or score lower and lose it all. If you happen to get a Straight Flush, Three of a Kind, or Straight, you'll win an Ante Bonus regardless of who wins the round. Straight Flush pays 5:1, Three-of-a-kind 4:1, and Straight 1:1.
Live 3 Card Poker by Evolution Gaming offers two optional side bets – Pair Plus and Six Card Bonus. The objective of the first is to make a pair or higher, and the highest respective payout 100:1. Players who place Six Card Bonus bet will try to make the best five-card poker hand by combining their own three cards and the dealer's cards. This side bet pays on Three-of-a-kind or better, with the highest payout being as much as 1,000:1.
Optimal Live 3 Card Poker Strategy
The optimal Live Three Card Poker strategy is fairly straightforward and easy to understand. The secret is to bet whenever you have Queen-6-4 or better and fold otherwise. This means you should be folding if your high card is a Jack or lower, regardless of what the other two cards are, and you should be betting if you've got a King or an Ace. When your high card is a Queen, bet only if:
your second-highest card is a 7 or higher, no matter what the third card
your second-highest card is a 6 and the third one a 4 or a 5
If you choose to follow this strategy, prepare to abandon a number of hands as they won't be meeting the above criteria. Be patient, though, because failing to consistently apply the optimal strategy could double the house edge, and that's one thing you doubtlessly don't want to do.
Pair Plus side bets will exhibit higher volatility, and though the odds are against you (one can expect to make a pair or better on average 25% of the time), potential big payouts could justify the risk. Before you decide whether to place this bet or not, check the house edge; paytable which delivers 4:1 on Flush carries less than 3% house edge, while with the one paying only 3:1 for the same hand, the edge could rocket to above 7%. First case scenario – try your luck and play Pair Plus; the alternative is to be avoided at all costs.
3 Card Poker Odds
In the following table you can see the chances for getting a particular hand in a game of 3 cards poker, as well as the number of combinations that make up this hand:
| | | |
| --- | --- | --- |
| Hand | Probability | Combinations |
| Nothing | 30.40% | 6720 |
| High Card | 44.00% | 9720 |
| Pair | 16.90% | 3744 |
| Flush | 5.00% | 1096 |
| Straight | 3.30% | 720 |
| Three-of-a-Kind | 0.20% | 52 |
| Straight Flush | 0.20% | 48 |
| Total | 100% | 22100 |
3 Card Poker Payouts – For Pairplus
There are two possible types of bets in 3 card poker (Ante and Pairplus) and therefore there are two payouts for each 3 card poker table. The actual paytables may vary from casino to casino.
| | | | | |
| --- | --- | --- | --- | --- |
| Hand | Table 1 | Table 2 | Table 3 | Table 4 |
| Pair | 1:1 | 1:1 | 1:1 | 1:1 |
| Flush | 3:1 | 4:1 | 4:1 | 4:1 |
| Straight | 6:1 | 5:1 | 6:1 | 6:1 |
| ToaK | 30:1 | 30:1 | 25:1 | 30:1 |
| Straight Flush | 40:1 | 40:1 | 40:1 | 40:1 |
| House Edge | 7.30% | 5.57% | 3.49% | 2.31% |
Tri Card Poker Payouts – For Ante Bets
Bonus Tri Card Poker payout tables for Ante bets:
| | | | | |
| --- | --- | --- | --- | --- |
| Hand | Table 1 | Table 2 | Table 3 | Table 4 |
| Straight | 1:1 | 1:1 | 1:1 | 1:1 |
| ToaK | 2:1 | 3:1 | 3:1 | 4:1 |
| Straight Flush | 3:1 | 4:1 | 5:1 | 5:1 |
| House Edge | 4.30% | 3.80% | 3.60% | 3.40% |
3 Card Poker Winning Tips
Most people like 3 Card Poker because you can walk away with huge wins that is if luck is on your side. However, winning on this game is not a walk in the park, and this is the main reason why some gamblers hate it. With 3.4% house of edge and 7.2% edge on the side bet, there is no doubt that you will be drenching in sweat while playing the game. The fear of losing won't allow you to stay calm. Do you want to play 3 Card Poker? We are going to give you sure tips on how to succeed in this game.
Here are 3 Card Poker winning tips that can help you to have a smooth sailing on the game:
1# Play with Values Higher than Q6
You are likely to get different opinions about this tip. A section of gamblers will give you different strategies concerning the time that you should take the most appropriate action. Some say that you should act when Q/10 is at the cutoff point. Others claim that you should not take anything that does not have a King. Their tips may be right or wrong depending on how you apply them. However, statistics indicate that anything that is higher than Q/6/4 is capable of helping you to gather small wins. These wins can accumulate to become something meaningful that you will be proud of.
2# Don't Play Blind
While the act of playing 3 Card Poker is a risk on its own, you need to make sure and calculated risks. Don't get into the game recklessly without throwing any cautions to the wind. One way of playing safe is by avoiding the hand blind. Chances of losing from this tactic are very high. If circumstances force you to play the blind hand, then you should do it cautiously. It should not be your go-to strategy for playing 3 Card Poker. Some gambling gurus advise that you are much safer when using your own tricks than using the blind hand.
3# Use Pair Plus with Moderation
There are plenty of opportunities for using pair plus. In fact, its circle is strategically positioned right above the circle for the ante, making it easily accessible. You can earn 1:1 for any pair and more for the bonus hands. As much as the pair plus promises you a brighter future, you should not entirely depend on it. Just play it once in a whole and you will be able to enjoy its fruits. The main reason for doing this is because the wager on the pair plus is more than 7%.
4# Consider Bonus Hands
Do not underestimate the power of bonus hands. They can deliver magic and help you walk out with big wins. In fact, big wins in this game can only be derived from the bonus hands. Most tables that host this game can pay up to 5:1 on the ante for a single straight flush. Some pay 4:1 for a single flush while others 2:1 for three flush. As if that is not enough, the payouts from the bonus hands start from 3:1 for a flush. These payouts can go up to 40:1 for a straight flush. This means that whenever an opportunity presents itself, do not resist using the bonus hands.
Live Three Card Poker Games
Three Card Poker regularly appears at major online casinos as a popular poker game. It doesn't frequently appear at poker sites in tournaments, though. However, in the last few years, it has broken into the live dealer casino world, and sometimes these live casino games can even be mobile-friendly. Developers who produce live 3 Card Poker games are known to include Evolution Gaming and Playtech amongst others.
Of course, the lure behind the live edition of this game is that you get to play with a real-to-life dealer, who you can communicate with via a live video stream to a casino studio or brick and mortar casino. Please be respectful when you talk to your dealer.
The wagering options themselves are still handled digitally via an interactive online menu, but if you're after an added sense of realism and authenticity, then you can't beat an adrenaline packed session of live 3 Card Poker. So, what are your options?
Live 3 Card Poker from Evolution Gaming: Developed by Evolution Gaming, this game is the quintessential game in this genre. It features multiple camera angles, has HD video quality and is mobile-friendly. The game only uses 1 deck of cards, allows the Pair Plus side-bet, and is streamed live from Riga, Latvia. Prizes in this game can rise as high as 1,000:1, so it is something you may wish to consider.
Playtech's Live 3 Card Brag: Technically, this is Three Card Brag, but the game is essentially the same as Three Card Poker. Playtech's game does not allow for side-bets and does not offer multiple camera angles. It can be streamed from Latvia, Romania or the Philippines and is also mobile-friendly. It also uses one deck of cards and features an HD quality video stream.
Live 3 Card Poker from NetEnt: NetEnt's own take on the game is virtually identical to their RNG (random number generator) version. It also offers the Pair Plus side-bet and allows you to talk to other players at the same table. Various table limits are also possible with NetEnt's take on the game.
Of course, while we do advocate playing the Evolution Gaming version of live Three Card Poker, the ultimate decision is down to you. All three offer something different, so players may wish to shop around and try several different variants. If these all sound too complex, you have ample Three Card Poker RNG variants available to play from many more software providers.
Conclusion
Since 3 Card Poker is a gambling game, you should play with caution. Do not expect to emerge the winner just because you applied all the tips that we have mentioned. Although you can become rich in the game, you may still end up losing big.
Rank
Casino
Bonus
Payout %
Visit
%