Live Win 3 Cards Allbet Gaming
Everyone loves the game of poker and with every passing day, it encompasses a large fanbase. Online, fans of betting are always open to poker games and subscribe to any poker option put out to them. Hence, we have different providers now releasing their own unique versions with their specific features.
One of such recent and dignified release is the LIve Win 3 Card from Allbet Gaming. As a new brand when compared with other big blocks, Allbet is hardly known by many. That's why you may have not come across this creative masterpiece from this provider.
In this post, we shall discuss the Live Win 3 Cards game elaborately for a better understanding before you subscribe to the game. Ensure you read to the end, so you won't miss any information that may prove resourceful along the line.
Allbet Gaming Live Win 3 Cards: Top Card Poker Game
Live Win 3 Cards is an exciting new option from Allbet, a quite unknown but promising new supplier of live gambling games. You might be bored with a standard card game like poker, blackjack, and baccarat. Still, if you want to stick with the genre, this might be a fun option to try.
This is a classic Asian folk game played in many different parts of the globe. Typically, it shares some parallels with baccarat. Still, the live-player form of the game provided by Allbet is based on the game Golden Flower.
It features a unique gaming dynamic that many players have likely never experienced before in a live casino. It shares some parallels with Three Card Poker, but its unique set of rules makes it its own entity.
The user layout may appear to be overly busy, but this is typical of apps created by Asian developers. They prefer to show a lot of information at once across the video stream. One can say they simply don't seem to like it when you organize things into panels.
With Allbet, things aren't too dire because the video feed takes up the complete screen. The statistics and other data only take up tiny spaces along the window's borders.
Understanding the Poker Features in Live 3 Cards by Allbet Gaming
Let's not hurry and assume that you're a badass poker player. If indeed, you're an amateur in the game, you're bound to come across an error or two, in understanding the terms. Here, we'll cover the terms two primary terms – the straight flush and the side bets. While playing, you're bound to come across both terms so read below to fully understand:
Straight Flush
If you have the right cards, you can achieve both a flush and a straight, and this is what the term "straight flush" refers to. Even though getting a full house or straight is difficult in poker, getting a straight flush is extremely unusual.
The straight flush is achieved by collecting five consecutive cards of the same deck. An illustration of a jack-high straight flush is a hand consisting of the jack, ten, nine, eight, and seven. This hand meets the criteria for both a flush and a straight, but its combination is extremely unlikely.
The lowest-ranking straight flush is A2345, while the highest-ranking straight flush is KQJT9. The value of a straight flush is unaffected by the sign on the cards dealt.
On the poker hand rating table, a straight flush is among the top cards. In poker, a straight flush is the second best hand, behind only a royal flush. That is, the only other winning poker hand against a straight flush is the royal flush. Five cards in a row, all of the same deck, constitute this hand.
The greatest conceivable straight flush consists of a sequence of cards from ten to ace all of the same deck. This means going from the highest card to the lowest. When five consecutive cards of the same deck are formed, it is considered a straight flush.
Side Bets
Side bets are the other unique feature explored in this three-card poker game. A side bet allows you to increase your payout by wagering on the cards the dealer draws before the proper begins. competition.
One way to beat the odds and create more certainty for yourself, even if you lose the main games, is by making a strategic side bet. However, it's essential to understand that the outcome of a side bet is entirely random, and the likelihood of winning is usually quite slim. Therefore, when considering a side bet, like those offered in games such as 32 Cards Live by Ezugi, it's crucial to pay attention to the details and not make such wagers too frequently. These side bets can add an exciting dimension to your gaming experience, but they should be approached with caution due to their inherent unpredictability.
How to Play Live 3 Cards Poker
The Jokers are not used in the card game Live Win 3 Cards because it is played with just one deck of cards. Asides from that, the same principles that apply to poker are used to assign values to the cards: A> K > Q > J > 10 > 9 > 8 > 7 > 6 > 5 > 4 > 3 > 2.
In front of the vendor, the table is divided into two sections. One is designated for the Dragon, and the other is designated for the Phoenix. These two cards, along with Pair 8 Plus, Flush, Straight, Three of a Kind, and Straight Flush, are the play options.
Before any cards are given, the participants are required to choose their chips. They are to position them in their desired wagering locations before the game can begin. You would wait until the countdown is over (it lasts for 25 seconds).
Afterward, the dealer will continue to hand three face-down cards to Dragon and Phoenix, one at a time. It follows in the order that they were dealt with. The palms are compared, and the one that comes out on top is responsible for paying out the wagers. If both the card order and combination of Dragon and Phoenix are the same, then the game is a draw. The bettor receives back all of their money.
Lastly, there are combinations of playing cards are available in Live Win 3 Cards. These are high card, pair, straight, flush, straight flush, three-of-a-kind, and 235. The following chances are used to determine the total amounts of payouts:
0.95:1 for the Dragon/Phoenix
2:1 for Pair 8 Plus
7:1 for Straight
8:1 for Flush
100:1 for Straight Flush
120:1 for Three of a Kind
The RTP percentage that is greatest is 97.51%.
Meet the Creators of the Three Cards Game
As a new brand, it would be interesting learning a little about the company behind this interesting game. For the land-based and internet gaming industries, Allbet Gaming LIVE creates both live casino and HTML5 games. It was established in the Philippines in 2014. It has since then made a splash at big gaming expos in Asia and Europe, including G2E Asia in Macau and ICE London.
Multiple games have been certified as legal by regulatory bodies like Gaming Labs International and PAGCOR (the Philippine Amusement and Gaming Corporation). Their games are also recognized by MGA (the Malta Gaming Authority) and the UKGC (the United Kingdom Gambling Commission). It's all stated on the company's site. Its motto is "Preeminence from credibility," and it encapsulates the company's approach to success.
It provides a full suite of gambling options, including activities, that can be implemented in whole or in portion. Through their API and UI, Allbet allows customers to connect their current sites and platforms. It allows them to enter new marketplaces and provides users with a more comprehensive experience.
An account on their platform provides single and multi-wallet support, website design, development, and rollout. When you subscribe, you enjoy support for multiple foreign currencies and 24/7 availability of customer service.
You also get white-label partnerships. This allows customers to establish their own brand identities without sacrificing access to the platform's core functionality are all part of the solution. If you choose not to sign up for their services anymore, you can simply use the unsubscribe link available.
Verdict of Live Win 3 Card Poker
Live Win 3 Cards is a betting game that calls for a combination of strategy and luck from its players. If both are on your side, you can have the winning hand and enjoy every round irrespective of the casino you join.
However, some players may object to the results present and consider it an error. Others may feel cheated if they have to wait for each of the three cards in their hand to be revealed. Of course, this is contrary to the normal way of seeing them all at once. If the cards were revealed one by one, there wouldn't be any tension at all.
You should try your hand at Win 3 Cards if you ever get the opportunity because it is a challenging finding to make. Don't just view its ads and walk by when you can play right now. Simply visit the casino you're comfortable with, join in from any location, make your bet and play on any device. If you have any other questions with regard to the service, you can check out the official company's site "other information" page.
Rank
Casino
Bonus
Payout %
Visit
1
100%% up to €500
%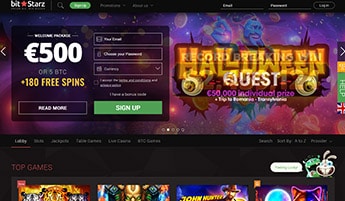 BitStarz - 100% up to €500 or 5 BTC
In conclusion, BitStarz is a pleasant surprise. It certainly isn't just another mundane online and live dealer casino that's shouting "Bitcoin games here!" from the rooftops. The brand is genuine and flaunts a solid game collection highlighted by a massive quantity of slots and a polished live dealer lobby. Its pros continue with free withdrawals, creative promos and bonuses, cash prizes and flawless mobile functionality. Proven fairness and notable accreditation make BitStarz a smart choice indeed.