For many people the mere mention of the word Blackjack evokes scenes from lush casinos whether those were personally experienced or just seen in a movie. One of the most popular and praised game among gamblers across space and time, Blackjack has been available through every single gaming platform created by man, the most recent being the Live Dealer casino experience.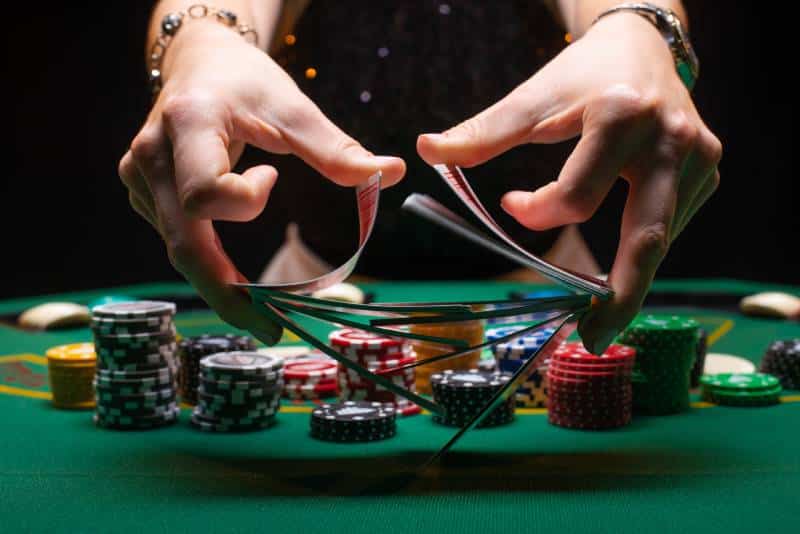 This hybrid form of online and live gambling slowly introduces the game of choice into the player's whereabouts by channeling a live, real-time video stream. Now, leaving the joys of gaming and having fun aside for just a second, let's consider some strategies a player could previously elaborate in order to obtain a profit. One thing to bear in mind is certainly the fact that 21 is a casino game, and the casino or the 'house' always has the best odds on its side. However, after some empiric research players have reached conclusions, and this is not news, about needing some skill, apart from luck, to win at Blackjack and if you don't you can at least brighten up your session with a few useful moves.
Don't Rely on Misconceptions
When talking about skill, of course, we mean counting cards. The good old notorious technique is very popular among players, mostly because, if conducted correctly, it gives them a sense of control and power at a table where the dealer is almost a prophet-like entity. Since card counting retired with the rise of online gaming software and only remained in traces between the walls of land-based casinos, players have been trying to resurrect it during Live Dealer Blackjack sessions due to the fact there is no random number generator, but a human dealer who reshuffles the deck on occasions.
That may be so, but it doesn't make it easy at all, other than the fact that you can try to do it over and over again from your comfy chair. The shoe gets shuffled just the right amount of times to get you halfway there, so the only real advantage in it for you is the practice. If you're low on experience this could help you create future strategies and build up some insight in mathematics, but abandon this technique if you're in pursuit of beating the dealer.
Clear Concept of Winning Options
Yes, beating the dealer is actually the sole object of Blackjack. You don't have to achieve a score of twenty-one to be a winning Blackjack player. There is no reason why you can't do it with such points as fifteen or nineteen, or even lower for that matter. For this, you would have to study many Blackjack strategies, and the quickest way to find assistance on the matter is the Internet, naturally. There are numerous pages that offer combination charts and cover almost any variation you may come across.
If you wish to be victorious in Live Dealer Blackjack you'll have to commit. Just imagine how all the effort you put in will be rewarded with the taste of sweet satisfaction in the long term. These charts may be a bit hard to swallow, therefore harder to implement during a regular casino session, but Live Dealer streaming allows you to distance yourself from the pressure of a crowded room full of tension and combine your strategies for the most favorable possible outcome. One thing though, make sure to pick your charts according to the number of decks and the game version you are facing. Bottom line, cover as many combinations as you can and stick to your designated aim.
Live Dealer Blackjack – Quick Advice
When it comes to considering the option of taking Insurance, know that it doesn't turn out to be a profitable precaution. All the risk-taking you'll ever have to do is decline insurance since the dealer hitting blackjack is worse than you losing your initial stake.

Consistently, play a responsible game. Bankroll management is the key to keeping you sharp at all times and reaching your full potential while trying out various betting options.
Read More: Live Power Blackjack
Summary
To be bluntly honest, there are really no 'perfect' or 'absolute' tactics for winning in Blackjack, because if there were any the game would belong overcome. During the session you're up against the dealer, and not the cards – the cards are your allies. Well, initially they are the casino's allies, but it's up to you to set up a background for possibly favorable game development by sharpening your anticipation skills. In order to spice it up a bit and enhance your chances of winning the most effective thing you can do is try to improve your game, practice, and learn, and you must never dismiss basic game rules and structure.
Enjoy the gameplay, and take advantage of the possibility of experiencing live Blackjack casino action from your home, in a stress-free environment. You'll be a pro player in no time.
Rank
Casino
Bonus
Payout %
Visit
%
Tuah is an experienced writer and casino enthusiast with 12 years of industry knowledge. With a degree in Journalism, he delivers objective and comprehensive casino reviews, covering game variety, user experience, security, and customer support. From slots to blackjack, roulette to poker, Tuah's expertise guides both beginners and experienced players in making informed decisions. Expect engaging articles providing valuable insights for an enhanced online gambling experience.