eBet Live Casinos
Live dealer games are becoming more popular among fans for the epic gaming experience and massive bonuses they offer. One such provider you shouldn't miss if you're also a bonus fanatic is eBet casinos.
The Philippines developer provides classic brick-and-mortar forms like roulette games. Nevertheless, it eventually turns its focus to Asian-targeted games like Live Sic Bo games and Dragon Tiger games. With a focus on such specific games, eBet casinos have been able to pull up some of the best feats.
There's no disputing that eBet's group is smaller than those of some of its rivals. Still, the company is constantly evolving in the games it offers and one can only anticipate the next big thing. Read on to learn more about how to play at their casinos.
eBET Live Dealer Casinos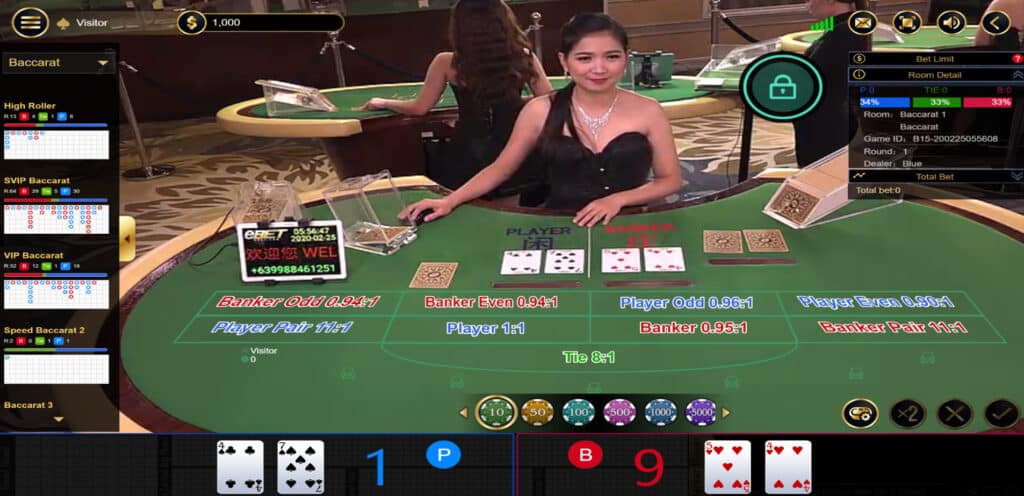 eBet has called Manila, Philippines home since its inception in 2012. eBet casino's strong focus was on providing premade live dealer games, just like many other gaming companies from the same area.
During their early years in business, the competition was lower than it is now. Due to the overwhelming response to their product demonstrations, eBet made a final decision. Instead of following the crowd, they decided to merge lightweight software with well-liked Asian markets video games. eBet saw an opportunity to satisfy the market for sic bo, different baccarat tables, live roulette, and other, more unusual games.
Smart Move at Evolution Gaming in the iGaming Industry
eBet claims to have been the first Asian live casino games service to give an option for mobile devices. This claim has been corroborated by a number of independent sources. While mobile gaming has become a common feature, no one ventured to develop for iOS or Android when they were first released.
The live casino games company eBet was one of the few that anticipated the widespread adoption of personal mini-computers by the decade's close. So, mobility was an early design priority, even at the expense of some quality. In the early 2010s, it wasn't crucial to have HD broadcasts, so this was a wise decision. However, they changed when the situation demanded it.
International Market Conditions and Legal Appraisals
First Cagayan Leisure and Resort Corporation (FCLRC) has given eBet its approval for operations. The Philippine Amusement and Gaming Commission (PAGCOR) has also given its stamp of approval to eBet's lawful operations. This is the best we could hope for from a Filipino service supplier, and they deserve our gratitude.
eBet also has Gaming Laboratories International check their games for impartiality (GLI). The results of an assessment by this independent firm can make or ruin a competition. They conclude that the eBet live gambling software is not rigged, biased towards the house, or dishonest in any way. They also employ their own software and proprietary techniques to carry out this so consider eBet safe.
eBet Platform Features and Qualities
eBET casinos are accessible on any device, whether you're on the go or at home with just an internet connection. Since they use high-quality camera views, the video stream is still in HD mode even on bigger displays. Their live casino games have gameplay, responsive on mobile and desktop devices alike. Live lottery games streaming to television is also an option for those who prefer such a gaming experience.
As it should be in our constantly evolving world, eBet games can be played without the need to acquire anything. It's as easy as making a payment, logging into your preferred online gambling casino, and heading straight to the eBET tables. Professional live dealers will be waiting to welcome you. However, the business also provides software for users who want instantaneous access to eBet casino tables.
The UI can be personalized in a variety of ways, but it was built with efficiency as the main focus. Mobile devices, laptops, and desktop computers all have straightforward options and menus.
eBet Online Casinos also took the prevalence of touchscreens into consideration. eBet casino has concluded that it is more convenient to enable you to alter your choice with a single touch. This is certainly better than forcing you to navigate a maze of submenus. Additionally, they support playing at multiple tables simultaneously to have as much fun. You'll get access to different games popular in the market and other live games settings.
Live Dealers at eBet Online Casinos
A live dealer will become the next most essential element once the gaming experience and gameplay interface have been perfected. Such live dealers are without a doubt the single most important component of online casinos.
When you play at eBET, you can rest assured that your live dealer gaming experience will be managed by qualified dealers. eBet dealers will always go the extra mile to ensure that you enjoy the company offers.
There will be no traditional bet taking place in the background. Still, you will have the impression that you are in a bustling live casino games studio. This is because the tables will be transmitted live from purpose-built studios.
High Quality Games at eBet Live Casino Games
At eBet, live baccarat is one of the most prominent tables. It's encouraging to see the business has something going for it, despite the fact that its other live games are weak. While only one exists, it is the most valuable piece the eBet games company offers.
Getting access to the online gambling area may take a few moments, but once the games have launched, they function quickly, reliably, and lag-free. The HD setting can be turned on and off in the interface. With this, the players can adjust the visual quality to their liking regardless of their internet connection or desktop devices.
The dealers are bilingual in Mandarin and English, and you can select your preferred language for the gameplay interface. You can find anything from Spanish, English, and Portuguese to Taiwanese, Japanese, and Korean if that's what you're after. That said, here are some of the live casino games for you to play:
Live Baccarat
When we last checked out eBet's live baccarat offering, they had several variations available. However, now there's only one live baccarat game to choose from, and it's called Live Baccarat.
While this may seem catastrophic, it is actually not that serious. Moreover, the new tables at eBet are a great upgrade over the many various versions previously available from some other providers. There are the standard Player, Banker, and Draw wagers, plus the enjoyable Player Pair and Banker Pair options.
There's no reason why you shouldn't get the complete eBet live baccarat experience even if you have a poor internet connection. In all honesty, it's a good choice.
Live Roulette
Live Roulette on eBet is an ordinary, run-of-the-mill rendition of European market roulette. You're undoubtedly already acquainted with many of the European market features. In other terms, there are one "0" and 36 "1" pockets on the European roulette fortune wheel.
The live roulette game features a dual camera angles user interface. One of the cameras is focused on the live dealer and the other on the fortune wheel. According to what's happening in the game, the camera will shift perspectives.
By enabling the Racetrack betting layout, you can set betting limits, make French, Call, and make a Neighbor bet. You can even make tie bets.
In addition to standard Live Roulette, you can also play Rapid Live Roulette. There is only one real distinction in this live roulette. For the latter, your betting limits must be placed within a shorter time limit, making the game slightly more suited to professionals.
Other eBet Live Casino Games
The inclusion of Live Bull Bull is one of the features that sets eBet casino games apart from its competitors. It's one of the quickest and most thrilling card games of global presence. These casino games go by the name Niu Niu or Bullfight in its native Asia.
There can be up to three participants in a game with just one Banker. The Live Dealer and each player at the table is dealt five cards. Each player's hand is assigned a position in the rankings based on the mix of their hand's number, suit, and other gaming criteria.
There are four types of bulls: No Bull, Bull 1–9, Bull Bull, and Bull 5 Flowers. It's a fantastic method to sharpen your mental muscles and become a master strategist. The Live Sic Bo and Live Dragon Tiger offerings are also available.
However, they aren't particularly impressive in our opinion. Nonetheless, the experience of watching Live Bull Bull live dealer games is worthwhile. Only eBet main offices provide this service; no other gaming bookmaker does.
Conclusion
It's quite unfortunate that there are no blackjack or poker game slots from the gaming company. It is a little perplexing that references to this card game appeared on both their website and their Facebook header.
Since they have a facility in Europe, it's possible that blackjack will soon be available at eBet live lottery games as well. This will be good news as many are anticipating new games as the company's popularity rises.
Rank
Casino
Bonus
Payout %
Visit
1
100%% up to €500
%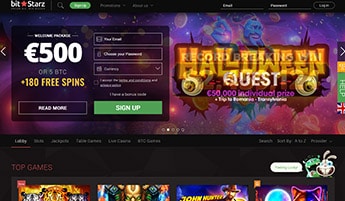 BitStarz - 100% up to €500 or 5 BTC
In conclusion, BitStarz is a pleasant surprise. It certainly isn't just another mundane online and live dealer casino that's shouting "Bitcoin games here!" from the rooftops. The brand is genuine and flaunts a solid game collection highlighted by a massive quantity of slots and a polished live dealer lobby. Its pros continue with free withdrawals, creative promos and bonuses, cash prizes and flawless mobile functionality. Proven fairness and notable accreditation make BitStarz a smart choice indeed.