Andar Bahar: How to Play the Card Game & Rules
What Is Andar Bahar Online?
Playing Andar Bahar online is similar to playing the game with your friends or family. Except for whether you're having fun with other online players or by yourself, there's not much of a difference. Try your chances for free entertainment or real money thrills. It's fast-paced, intense, and completely immersive, keeping you on the edge of your seat.
The advantage of this classic popular game is that it is completely portable. You usually only require a deck of cards, with no additional game tables, wheels, or chips. Andar Bahar becomes truly mobile when you play it online. At the touch of a screen, you may enjoy it on your PC, smartphone, or tablet whenever you choose.
Overall Rating
Play Now
BitStarz
100% up to €500 or 5 BTC
Excellent reputation since its establishment in 2014
170+ live dealer tables and 2800 other games
Generous bonuses & promotions every week
How to Play the Card Game Andar Bahar
When playing Andar Bahar, the outcome is largely determined by luck, with a little smart guesswork thrown in for good measure. The rapid-fire gameplay is played with a single deck of 52 cards. To keep things simple, the game's odds of winning are 50/50.
Players then choose one of two sides of the table: Andar (left) or Bahar (right) (the right side). The goal is to anticipate which side an identically numbered card to the chosen card will emerge when the cards are sliced and dealt. It's as simple as that!
Basic Guidelines
Even though Andar Bahar is a simple card game, there are a few general rules and gameplay elements that you should be aware of before getting started. These differ slightly between online casinos, newer alternatives with additional features, and live casinos. However, the following are the usual Andar Bahar rules:
The pack of cards is cut open to expose a card that is visible to all participants.
Players then wager on whether a card of the same face value will appear in Andar (on the left) or Bahar (on the right) (to the right).
The Andar and Bahar betting areas are then handed cards. Dealing will begin with Andar if the opening card is a black suit (clubs or spades). If the card is red (hearts or diamonds), it will begin with Bahar.
If there is any more betting, two cards will be dealt to each betting area, and players will place their final bets.
The cards are then alternately dealt to each of the betting places as you wait for a match to begin.
The round will terminate when any of the betting places receives a card with the same value as the chosen one.
If you wager on the correct location, Andar or Bahar, you will win and receive your winnings.
The dealer wins all other wagers.
The dealers cut, for example, shows a card value of 5. You put a wager on Andar. After that, cards are handed to both betting positions, with the Andar position receiving a card with the same value of 5. This means you'll win your original wager. If the card appears in Bahar, you chose incorrectly and will forfeit your Andar Bahar wager.
Game Rules
One of the advantages of playing Andar Bahar is that there is no need to learn or memorise intricate vocabulary. It's a simple game that may be played by people of all ages. Players simply need to keep two things in mind:
The left betting place on the table is known as Andar. In Hindi, it signifies "within."
The right betting area on the table is referred to as Bahar. In Hindi, it means "outside."
Taking Chances
When playing Andar Bahar online, there is normally a minimum wager required to join, which can be as low as ten dollars. There will also be a cap, which may be as high as $10,000. You'll be able to pick a game or a live casino table that fits your budget and personal preferences.
Again, many types of Andar Bahar may be accessible, particularly in live casinos or video games. However, you will usually be told to "Place your bets, please" once the lead card has been shown. After that, you'll have a few seconds to pick Andar or Bahar as your prediction and deposit your bet.
Additional Optional Bets
Some online Andar Bahar games may also allow you to place some interesting side bets. Players may also be allowed to gamble against the dealer's cut card. These side bets can involve predicting the suit of the lead card or whether it will be below or over a specific number. Bets are made by first selecting the proper chip amount on the screen, then selecting the card.
Andar Bahar instructions on wagering limits, how to place bets, and if any extra bets can be placed at the table maximum limit are always available onscreen.
Payouts
When playing Andar Bahar, the payments are always based on the player's correct prediction of where the matching card number will appear. However, whether the first card was given to Andar or Bahar is frequently related to whether it was a black or red suit.
Players receive a 90 percent reward if the matched card appears on the same side as the first dealt card. So, if you wagered $100, you'd win $90. If the card appears on the opposite side, players earn a 100% reward, which means your Andar Bahar payoff would be $200.
Winning Strategies
Andar Bahar is a fascinating and fast-paced card game. However, there aren't many strategies that players can employ to improve their odds of winning. Unlike Teen Patti, the outcome of Andar Bahar is mostly dependent on luck. There are no strategy manuals that can really offer to boost the odds or guarantee a payoff, as there are with most games of chance.
If you truly want to improve your odds of winning, there are a few broad guidelines to follow. Before you begin playing, you must first learn the game and grasp how the dealing and betting function. You can even practice without being online. One popular variant of this game is Live Andar Bahar Ezugi, which adds an exciting live dealer element to the experience. Before you start playing for real money, make a budget for yourself. This will help you manage your finances and ensure that you're not wagering more than you can afford to lose.
Check More Info:
Where Can I Play Andar Bahar On The Internet?
Online Andar Bahar has captivated players all over the world, and it is a game that can be found at many of the best online casinos. It's a terrific choice for players of all skill levels because it's not as intense as card games like Poker and it's also a lot of fun. There are now even dedicated Andar Bahar websites where you may take advantage of expanded betting options or unique reward point systems.
If you want to play Andar Bahar for real money, you can look through our list of the finest Indian choices, such as Jeetwin or Bodog. Make sure you're playing at a secure, regulated online casino. You can also look into the welcome bonuses and ongoing promotions that are available. These can help you play for longer periods of time while also increasing your chances of winning.
Of course, there are numerous online sites that cater to Indian players who simply enjoy playing for fun. Each game will have a free play variant in most professional casinos. This means you can play Andar Bahar as much as you like for as long as you want. It is not need to spend any money. But keep in mind that your winnings will not be actual money.
Andar Bahar Live Strategy Guide
A live casino is a must for any player who enjoys engagement or the thrill of real-time gaming. With a live dealer handling the cards and regulating the gameplay, live Andar Bahar is as exciting as it gets. Most live casinos provide mobile gaming, which offers cutting-edge technology and functionality to mobile gaming enthusiasts.
Live casino action is broadcast in high-definition HD from a studio or a land-based casino floor. You can interact with the dealer as well as everyone else at the Andar Bahar table. There are generally possibilities to customise your gameplay and camera angles. It provides the greatest gaming experience while also providing a traditional Indian card game and Indian live casino games that are suited particularly to people from India.
You can select your preferred Andar Bahar table betting limit before taking a seat at the table. Bets are put through the interface, usually by selecting a chip and then the card position. You will be told when to place your bets by the dealer. They'll also converse with you during the game, announce the winners, and distribute the prizes. Different side bets are available at the Andar Bahar live casinos to add to the excitement. It's completely immersing.
Andar Bahar video
Video Andar Bahar is a wonderful alternative if you like to play alone and focus on the game at hand. A video version is frequently animated and comes in two formats: 2D and 3D. A random number generator controls the cards and outcomes, ensuring that the software produces fully random results. You won't have to interact with other players, and you'll be able to experience the speed and excitement of card gaming whenever you want.
Andar Bahar can be played for free or for real money
Indian players like this local Andar Bahar game, which has now become a major online favourite. Many people like the thrill of playing without spending any money, for free, or with virtual money. It's logical. With the option to play on mobile devices, it might be a fun way to while away ten minutes. You can also learn how to play without risk if you are new to the game.
However, many gamers like the excitement of winning when they play casino games. It's simple to identify a reputable operator when you're ready to play Andar Bahar for real money. Place your wagers and take a break. Whichever option you choose, Andar Bahar is a fun social game that will keep you entertained for hours!
FAQ
Is playing Andar Bahar legal?
Yes, it is. There are no rules that make it unlawful to play Andar Bahar online. Andar Bahar is available at a number of online casinos that cater to Indian gamers. Just make sure to pick a secure one that abides by international privacy and data protection standards.
What can I do to win at Andar Bahar?
Because Andar Bahar is a chance card game, winning is primarily a matter of luck. It's a straightforward and enjoyable game to play. You may, however, be prepared by making sure you understand the rules and betting so you can get the most out of your game.
How do I get away with cheating in Andar Bahar?
Andar Bahar does not allow cheating. On the internet, you may come across numerous scams and even software that promise to be able to assist you in winning. It's just not true. It's a completely random card game with no known methods or talents that can help you enhance your chances. Anyway, it's preferable to play Andar Bahar honestly and appreciate your genuine winnings!
Rank
Casino
Bonus
Payout %
Visit
%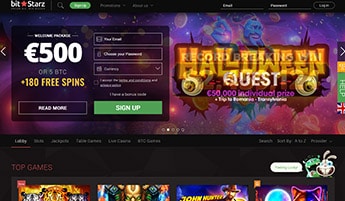 BitStarz - 100% up to €500 or 5 BTC
In conclusion, BitStarz is a pleasant surprise. It certainly isn't just another mundane online and live dealer casino that's shouting "Bitcoin games here!" from the rooftops. The brand is genuine and flaunts a solid game collection highlighted by a massive quantity of slots and a polished live dealer lobby. Its pros continue with free withdrawals, creative promos and bonuses, cash prizes and flawless mobile functionality. Proven fairness and notable accreditation make BitStarz a smart choice indeed.