Opus Gaming Live Sic Bo Review
Sic Bo has come a long way from Ancient China to live casinos. The dice game originally invented in China is today popular worldwide and you can play it at live casinos powered by Opus Gaming too. Opus Gaming, founded in 2009, is one of the fastest growing live casino games provider in Asia and its products target the Asian market.
Live Sicbo from Opus Gaming is broadcast live from Makati, the Philippines, and hosted by Asian live dealers who will do their best to make your stay at the table enjoyable and the closest to the brick-and-mortar casino experience.

About Live Sic Bo from Opus Gaming
Being a dice game of chance, Sic Bo offers multiple betting options. At the same time, its rules which be explained later in the text are quite simple and it will take you only a few rounds to learn how to place bets and enjoy this fast-paced live dealer game. Sicbo from Opus Gaming features live chat as well as a section with all the bets and payouts listed. Players will be also informed about the results from the last roll and when the game is launched, the close-up of the dice will show the results. All kinds of players are accepted at Sic Bo tables by Opus Gaming as the betting range varies from $1 up to $5,000 per roll.
Live Sic Bo from Opus Gaming Rules
Once you join the table, you have 20 seconds to place your bet. When the time is up, the dealer will roll the dice and all the numbers appearing on them will be clearly shown. The game features audio and visual timer which will warn you about the time left to place your bets. Bets are placed on the board populating the lower part of the screen with all the betting options visible. Just like with other Sicbo games, players can place Big and Small, Total, Combination, Single, Double and Triple bets. All the payouts are shown on the board and you will easily see which bets award most lucrative prizes.
Triple bets, such as those found in Playtech Sic Bo, pay 150:1, offering the most substantial payouts available in the game, particularly from providers like Opus Gaming. Nonetheless, if you're new to this form of entertainment, it's advisable to begin with Small and Big bets. These bets predict that the total of three dice will either fall between 4 and 10 or between 11 and 17. Embracing these bets aligns with a low-risk strategy that minimizes potential losses as you familiarize yourself with the game. While crafting your own victorious approach is plausible, it's important to always bear in mind that Sic Bo fundamentally hinges on chance.
Key Features
Depending on the player's moves, the house edge in Sicbo varies between 2.78% and 30%. Once you enter the game and join the table, you will enjoy its layout in the relaxing green color along with a genuine land-based casino atmosphere. From the comfort of your home you will feel as if you were in the middle of a gaming hall in Macau where beautiful Asian dealers operate the game. Choose a table with a betting range based on your bankroll and opt for the video quality according to the internet connection speed to enjoy the smooth performance of the game. Opus Gaming Sic Bo allows you to chat with the live dealer if you are experiencing any concerns and you can enjoy the gameplay on the move too if you own an Android, Windows and iOS mobile device.
Read More:
Rank
Casino
Bonus
Payout %
Visit
%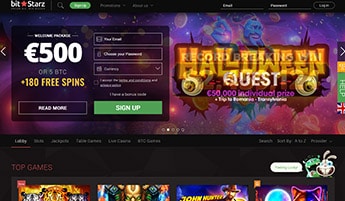 BitStarz - 100% up to €500 or 5 BTC
In conclusion, BitStarz is a pleasant surprise. It certainly isn't just another mundane online and live dealer casino that's shouting "Bitcoin games here!" from the rooftops. The brand is genuine and flaunts a solid game collection highlighted by a massive quantity of slots and a polished live dealer lobby. Its pros continue with free withdrawals, creative promos and bonuses, cash prizes and flawless mobile functionality. Proven fairness and notable accreditation make BitStarz a smart choice indeed.