Best VIG Live Casinos and Games – Best Live Online Casino USA 🥇 Top 7 Live Dealer Sites (2023)
One of the most recognizable names in the world of live dealer casino software, Visionary iGaming were one of the first developers to burst onto the scene in 2008, and their rise to the top was rapid.
Despite their huge initial popularity, they are not considered to be at the forefront of the industry anymore, with many rival live dealer casino software suppliers have accelerated past and supplanted them. Visionary iGaming still has a lot to offer operators of live dealer casino sites and players, though, as you will see.
About Visionary IGaming
Visionary iGaming first began operations in 2008, when they were a budding new provider of live dealer casino software, a new concept at the time. Formed under the guidance of Martin Reimer (a former executive at VueTech) they rapidly became a popular provider of live dealer casino games, which culminated in them winning the eGaming Review award in 2011 for the Best Live Casino Supplier of the Year.
Since then, their fortunes have dipped a bit, although they are still recognized as a major player in the live dealer casino software industry. They currently offer several platforms of their live casino software, giving operators a choice when it comes to deciding the right package for them. A box standard package offers a full suite of turn-key software, so operators can run their own casinos, but now, many operators often select just the live casino suite of games, whilst running back-office software from other providers.
VIG Live Dealer Games
One of the reasons why VIG has dipped a little of late is that they haven't really made much progress pushing their selection of live dealer games. They offer just 5 games in all, many of which were once top of the line titles. Other developers have since outpaced them, offering bigger, more numerous and arguably better titles. However, blackjack variants such as Early Payout are still exclusive to this live dealer software provider and are thus well worth a look.
Most VIG titles also come with a Table Protection feature. This revolutionary concept means that if players lose connectivity, their hand is still played, although using Basic Strategy. Many other software suites would automatically hand the casino a win if a player loses connectivity, so this feature does provide players with a reasonable chance of winning even if they are disconnected from the game for technical reasons. Players will always have a temporary window to get reconnected to the game before the Basic Strategy Table Protection feature kicks into gear, though.
The full range of games from Visionary iGaming includes:
Blackjack:
The standard live dealer blackjack game from this developer features 7 seats at a table, providing a Vegas-like casino experience for players. Choose Ahead options to allow players to speed up gameplay, whilst Back Betting opportunities are provided for if tables are full. Pairs and Rummy side-bets form an important part of their blackjack offerings, whilst tip bets are also permitted.
Baccarat:
Popular with Asian players at casinos running Visionary iGaming software, their Live Super 6 Baccarat games (also known as No Commission Baccarat) is quite appealing. Super 6, Dragon Bonus and Pair side-bets are possible, and the games are played with HD picture-in-picture video, whilst shoe history features such as Bead Plate, Big Road, Big Eye Road, Small Road and Cockroach Road are also worked into its design.
American Roulette:
This live dealer game also contains HD picture-in-picture video streams, and there is an in-depth and rich game history window for players who like to keep tabs on the stats.
European Roulette:
More prosperous than American Roulette on the basis that there is just a single zero pocket, Visionary iGaming's European Roulette is identical to its American counterpart in every other way.
Blackjack – Early Payout:
The jewel in the crown as far as Visionary iGaming are concerned is Blackjack – Early Payout. This title has been developed exclusively by them and is not found in any other major live dealer casino software provider's arsenal. There is a 99.5% payout rate in this game, and many consider it to be the highest paying blackjack game in the live dealer casino world. The patented game (known as BJEP) is based on Common Draw Blackjack, permits Pair and Rummy side bets, and is hugely appealing to any player who is looking for a little more pizazz in their live blackjack gameplay.
Visionary IGaming Software and Products
Visionary iGaming, known for its cutting-edge solutions, offers a wide array of live promotions and HTML5 format live dealer games. These games boast high-quality streams with multi-bit video, ensuring an optimized feed that matches the user's internet connection. Broadcasting out of Costa Rica, Visionary iGaming's live casinos are staffed by dealers primarily from Latin America, proficient in a variety of languages. In fact, they proudly support almost every major language and currency in their games.
Adding to the excitement, Visionary iGaming collaborates with TVbet Live Casinos to further enhance the gaming experience. TVbet Live Casinos brings its own unique flavor to the mix, offering a diverse range of live betting games that complement Visionary iGaming's offerings seamlessly. Together, they provide a dynamic and immersive gaming environment that caters to players from around the world.
It is worth pointing out that Visionary iGaming has also developed a small, but an enjoyable selection of slot machines and video poker titles, too. Naturally, these are not part of the live dealer suite but can form a part of the complete turnkey package for operators looking for the real deal.
Final Thoughts
Visionary iGaming may not be the top dogs in the industry anymore, but there are still plenty of reasons why players will find their live dealer suite appealing, not least the originality and excitement behind their Blackjack – Early Payout game. VIG live dealer games can often be the scene of numerous temper tantrums from losing players (an issue not limited to them), although the dealers do try and resolve any players' complaints fairly and kindly, and with seemingly unlimited patience. In fact, they are amongst the friendliest and most efficient dealers when it comes to settling disputes and arguments.
Around 15 major casinos currently feature live dealer casino games from Visionary iGaming, some of which are entirely powered by the software developer themselves. Those which aren't usually run on software from BetSoft Gaming and Microgaming. There are bigger players in this industry, but as one of the originators of live dealer software, do not dismiss what Visionary iGaming have to offer, especially if you're a fan of fun blackjack variants.
Rank
Casino
Bonus
Payout %
Visit
%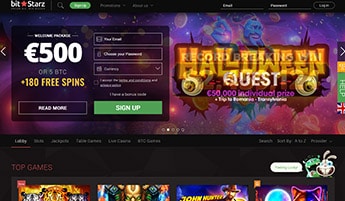 BitStarz - 100% up to €500 or 5 BTC
In conclusion, BitStarz is a pleasant surprise. It certainly isn't just another mundane online and live dealer casino that's shouting "Bitcoin games here!" from the rooftops. The brand is genuine and flaunts a solid game collection highlighted by a massive quantity of slots and a polished live dealer lobby. Its pros continue with free withdrawals, creative promos and bonuses, cash prizes and flawless mobile functionality. Proven fairness and notable accreditation make BitStarz a smart choice indeed.